Reznikov resigned from MoD - Reasons for dismission, facts about MoD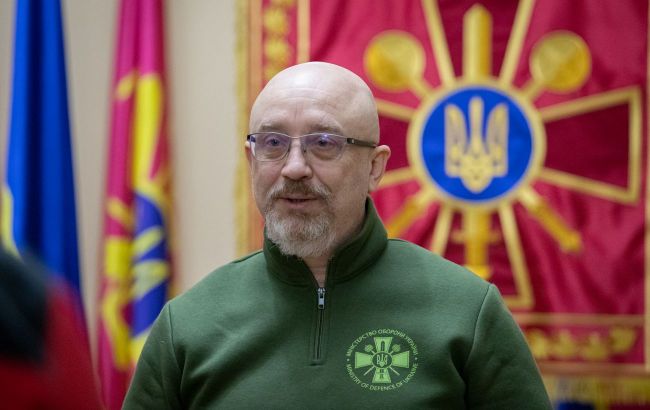 Minister of Defense of Ukraine, Oleksii Reznikov (photo: Getty Images)
The Verkhovna Rada plans to dismiss Oleksii Reznikov from the position of Minister of Defense of Ukraine today, who submitted his resignation on Monday. President Volodymyr Zelenskyy stated the need to replace the official. This decision followed a series of high-profile corruption scandals related to defense procurement at the Ministry of Defense.
Lawyer, deputy, minister: The beginning of Reznikov's career
Oleksii Reznikov began his professional career in law firms shortly after receiving his higher legal education. In 2000, he founded his first law firm, "Pravis," and in 2018, he became a partner at "Asters." He specialized in dispute resolution, facilitation, fact-finding, and the preparation of amicable agreements.
Parallel to his work as a lawyer, he started his local political career as a deputy of the Kyiv City Council from 2008 to 2014. In 2014, he became the Deputy Mayor-Secretary of the Kyiv City Administration, working on decentralization and local self-government. From 2016 to 2018, he served as the Deputy Head of the Kyiv City Administration.
Oleksii Reznikov was appointed as a minister for the first time on March 4, 2020. He was appointed to the newly established Ministry for Reintegration of Temporarily Occupied Territories and was made a Deputy Prime Minister. In this position, he contributed to the development of the Crimean Platform forum.
Before leaving office, he mentioned that none of the existing conflict resolution models would suit Ukraine, and they would have to find their own solution. At that time, non-military means were discussed. However, there are now increasing voices, including Secretary of the National Security and Defense Council of Ukraine, Oleksiy Danilov, suggesting that at least Crimea might need to be reclaimed by force.
Face-to-face with Russians in Minsk: Times in the Trilateral Contact Group (TCG)
"Only the moderators are new here," - Oleksii Reznikov on working in the TCG.
Oleksii Reznikov first encountered Russians face-to-face in 2019, before his appointment as minister. At that time, President Zelenskyy included him in the Ukrainian delegation to the Trilateral Contact Group (TCG), which convened in Minsk. Reznikov was part of the political subgroup.
After some time, Reznikov became the first deputy and later temporarily led the Ukrainian delegation in Minsk in place of the second President of Ukraine, Leonid Kuchma. He characterized the working dynamics in this negotiation body as: "no progress and regression." The Ukrainian side proposed relocating the negotiations from Minsk to Istanbul.
In 2021, Zelenskyy removed Reznikov from the negotiating group and replaced him with Andrii Kostin. At that time, Russia was "panicking away from open conversation," Reznikov said in 2022, already as the Minister of Defense. This statement was made a few days before February 24.
Total defense: Reznikov after February 24
"Oleksii Yuriiovych, they have attacked." Zaluzhnyi in a phone call to Reznikov early in the morning on February 24, 2022
It was supposed to be a regular day in the position of Ukraine's Minister of Defense, even though ominous clouds had already gathered over Ukraine from three directions. As Reznikov recalls, he was supposed to wake up at six in the morning to escort the foreign ministers of the Baltic countries to the Donbas. An airplane to Kramatorsk from "Zhuliany" was scheduled for eight in the morning.
But instead of a flight to the East, there was an urgent trip to the Ministry of Defense amidst the roar of the first explosions. Inside, the security personnel were already in helmets, body armor, and with rifles (where ammunition for weapons is located - ed.), and with automatic rifles. They started assembling protective structures with sandbags. Every window became a combat position, Reznikov remembers, even in his room.
In the first hours of the invasion, the Cabinet of Ministers was divided into "mobile" and "Kyiv" parts. Reznikov had to stay in the capital. Those who left had the authority to make decisions if there was no communication with Kyiv. Reznikov, as he later admitted, had to act outside the protocol due to the fighting. The building on Povitroflotsky Avenue was one of the potential targets.
"If we had followed it, you'll laugh, we would have gone to Hostomel. There was a secured command post of the Ministry of Defense (MOU - Ministry of Defense's Command Post) assigned to us. Half of the Ministry would have almost ended up in captivity." That's why the staff dispersed to many buildings in Kyiv owned by the Ministry.
Meanwhile, he himself gave the order to distribute weapons at the military commissariats because there were already long lines there. In just two days, 20,000 Kalashnikovs were distributed in Kyiv alone. Checkpoints were also growing. At first, it was completely chaotic, but then the situation was normalized with the involvement of the National Police and the National Guard, Reznikov explained.
Next, the Ministry of Defense operated under the laws of wartime. However, since the minister was a civilian, he primarily dealt with cooperation with international partners to provide Ukraine with modern weapons in larger quantities. He also participated in several rounds of negotiations with the occupiers on the territory of Belarus and Türkiye in the early days and weeks of the full-scale war, but, as is known, those negotiations ended without results.
Meetings in the "Ramstein" format (named after the American airbase in Germany) played a significant role in supplying Western weapons to Ukraine, aiming to accelerate and standardize arms deliveries to Ukraine. The first meeting took place on April 26, 2022. Subsequently, these meetings became monthly. It was at "Ramstein" that Ukraine received final approval for the supply of HIMARS, 155mm caliber ammunition, NASAMS air defense systems, Patriot systems, and Leopard tanks.
Helmets, eggs, and body armor: scandalous procurement at the Ministry of Defense
There were also several unpleasant stories during Reznikov's time as Minister of Defense. The Ministry of Defense faced several high-profile corruption scandals related to procurement and corruption in the area of mobilization (VLK and TCK).
In 2022-2023, investigative journalists revealed alleged procurement irregularities by the Ministry of Defense, including:
eggs at 17 hryvnias each. They have already been dubbed "golden" in the media;
kevlar helmets for $468 each, while a similar contract in 2022 cost $132 per helmet;
body armor vests, lower than class IV protection, for over 130 million hryvnias, of which 100 were misappropriated. A product expertise examination by the Security Service of Ukraine (SBU) revealed that the actual price of the vests was 25 million hryvnias. This means that one vest should have cost 9,000 hryvnias, but they were purchased for 44,000 hryvnias each.
As a result of a series of scandals, Deputy Minister Viacheslav Shapoval and the head of the procurement department, Bohdan Khmelnytskyi, were dismissed. On February 1, 2023, both were handed suspicions by the Security Service of Ukraine (SBU). It was then that the question of Resnikov's possible resignation was first raised.
The Minister himself called the scandal of eggs for 17 hryvnias each a fake and stated that such a procurement had never taken place (because, according to him, it is "not documented" in the State Audit Act).
The Türkish jackets for Ukrainian servicemen, which became the latest issue, were also purchased in 2022, but their cost supposedly changed on their way to Ukraine, as journalists pointed out, from $29 to $86 per unit, and allegedly "winter" jackets became "summer" ones. Minister Reznikov rejected accusations of corruption and non-compliance of the jackets with the declared characteristics.
He even offered journalists and MP Anastasiia Radina (Chair of the Anti-Corruption Committee of the Verkhovna Rada) a bet: if it turns out that they indeed supplied 180,000 summer jackets instead of winter ones, he would step down from his position. Conversely, if the opposite is true, Radina will resign from her mandate, and UP journalist Mykhailo Tkach will leave the publication and not engage in journalism for 3 years.
After his resignation, it is expected that Oleksii Reznikov will remain in the current government's team and may be appointed as Ukraine's Ambassador to the United Kingdom. Ironically, they also recently replaced the Minister of Defense.