Revenge for 128th brigade: Ukrainian defenders strike Russians during award ceremony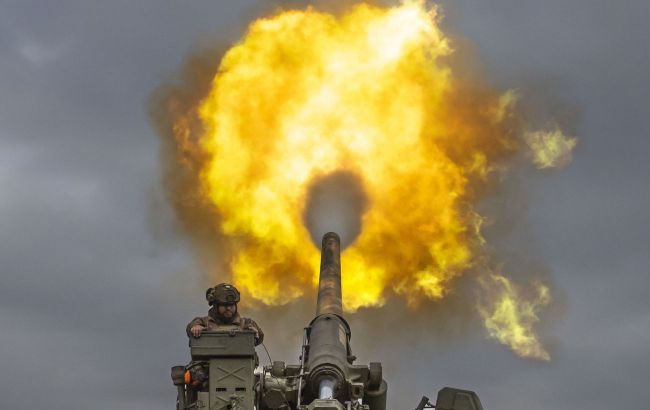 Photo: The Armed Forces of Ukraine hit the Russian occupiers during the celebrations (Getty Images)
Ukrainian soldiers struck a group of Russian soldiers from the 810th Marine Brigade in the Kherson region. Dozens of occupiers died, and hundreds more were injured.
Sources used: RBC-Ukraine sources, the Facebook account of the Transcarpathian Regional Military Administration, and the account of the commander of the "Birds of Madiar" air reconnaissance unit, Robert Brovdi.
Revenge for the 128th brigade
"The defense forces struck, I would not like to comment further, it's sensitive information. The damage was inflicted, the losses among the command staff and personnel are significant," the source of RBC-Ukraine confirmed the information, noting that the strike was successful.
The military has already called this attack on the enemy revenge for the attack of the Russian Federation on our servicemen in the Zaporizhzhia region, namely the 128th separate mountain assault brigade.
They "covered" the occupiers on the Day of the Russian Missile and Artillery Forces during the award ceremony (November 19). The 810th Sevastopol Marine Brigade in the Kherson region came under fire, the source added.
Also, according to the source, the last commander of this brigade "retired" on November 8. And seven more brigades have already been eliminated by the Armed Forces of Ukraine.
Earlier Robert Brovdi, the commander of the "Birds of Madiar" air reconnaissance unit, wrote about the defeat of the occupiers' cluster.
"Revenge. Boomerang: two weeks after the attack on the 128th. 810th, you feel the pain, we know for sure. For our guys. For Transcarpathia, a separate mountain assault unit," he wrote.
According to him, 25 occupiers were killed, and about a hundred others were injured. Losses among the command staff are carefully hidden by the Russians.
Attack on the 128th brigade
On November 3, in a front-line village in the Zaporizhzhia region, a Russian missile hit a gathering of troops of 128 separate mountain-assault brigades of the Transcarpathia, who were gathered to be awarded for the Day of Missile Troops and Artillery. The tragedy claimed the lives of 19 soldiers, dozens of military personnel were injured, and the local population was also injured.
Currently, law enforcement officers are investigating the circumstances. But recently, the Ministry of Defense revealed new details of the tragedy. It was possible to establish minute-by-minute the circumstances and events that happened that day.
In particular, the State Bureau of Investigation does not rule out that the target of the Russian attack on the 128th brigade could have been a brigade combat unit.