Putin-Kim Jong Un negotiations - Strengthening Russia-North Korea relations to undermine sanctions evasion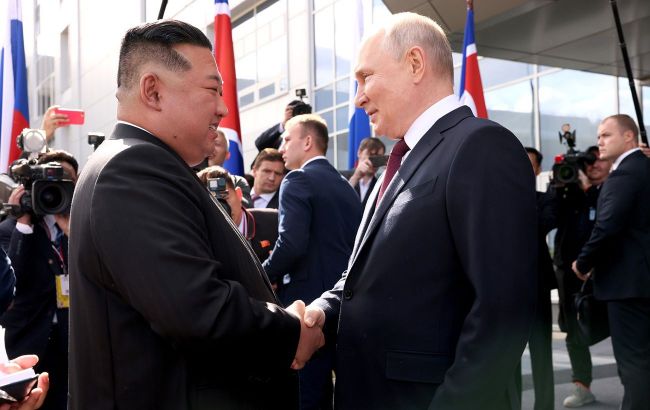 Vladimir Putin and Kim Jong Un (photo: kremlin.ru)
Russian President Vladimir Putin likely fears that strengthening relations with North Korea could jeopardize existing schemes for Russia to evade sanctions, according to an ISW report.
Putin met with North Korean dictator Kim Jong Un at the Vostochny Cosmodrome in the Amur Region of Russia on September 14. He described the meeting as "productive" and stated that he and Kim had engaged in an "open exchange of views" on the situation in the region and bilateral relations.
Putin also announced that Russia continues to adhere to restrictions on military-technical cooperation with North Korea but mentioned that 'within the current regulations, there are additional possibilities.
Putin likely seeks to portray his meeting with Kim as a neutral move to balance Russia's interests in acquiring North Korean artillery munitions with concerns about the risk of secondary international sanctions against Russia due to potential trade with North Korea.
Key ISW findings:
On September 13, the Ukrainian Armed Forces launched missile strikes on the occupied city of Sevastopol in Crimea, damaging a Russian landing ship, a submarine, and port infrastructure.

Ukrainian forces have also reportedly advanced in the Zaporizhzhia region and in the area near Bakhmut in the Donetsk region.

During the night of September 12-13, Russian forces carried out a series of drone strikes using Shahed-131/136 drones in the Sumy and Odesa regions.

The Russian Ministry of Defense has temporarily suspended the rotation of the Wagner Private Military Company (PMC) forces in Syria.

Russian forces have conducted offensive operations along the Kupiansk-Svatove-Kreminna line and near Bakhmut, but they have not achieved any confirmed successes.
Yesterday, on September 13, a meeting took place between the dictators of North Korea and Russia - Kim Jong Un and Vladimir Putin.
More details about what transpired during Putin and Kim's meeting, you can find in the article by RBC-Ukraine.