Prostate cancer survivors among celebrities share advice for men's health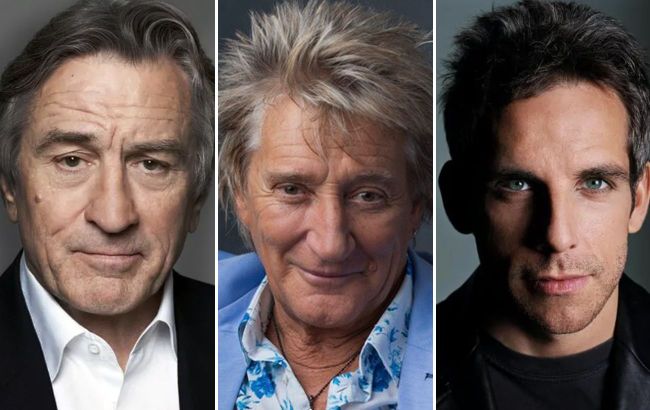 Stars who beat prostate cancer (Collage: RBC-Ukraine)
Prostate cancer is the most common type of oncology among men. Unfortunately, no one is immune from it. This disease is generally very insidious and appears unexpectedly.
Urologist Benedikt Havrylyshyn tells about the celebrities who managed to overcome the most frightening type of cancer for men.
Robert De Niro
Star of movies such as "Hide and Seek", "Joker", "Bohemian Rhapsody", 'The Comedian", and many others, Robert De Niro discovered he had prostate cancer at the age of 60.
The disease was diagnosed at an early stage, so doctors gave a 100% chance of recovery. Almost immediately after completing the treatment, the actor returned to filming the movie "Hide and Seek", where he had the lead role.
These stars have battled prostate cancer and continue to delight us with their talent. Here's what they advise men:
Ben Stiller
Stiller was diagnosed with prostate cancer when he was 48 - in 2014. The actor himself has much to say about this period.
However, he pointed out that he was really fortunate. The main focus of his treatment was surgery. And it was super successful. Undergoing tests and seeing a doctor regularly is incredibly important. However, it's a personal decision for every man.
You can see Ben Stiller in movies like "While We're Young", "Night at the Museum", "The Secret Life of Walter Mitty", and others.
Interestingly, in the movie "Meet the Fockers 2", he starred alongside Robert De Niro, which is a quite significant and intriguing coincidence.
Rod Stewart
Rod Stewart, a composer, vocalist, producer, and songwriter, learned about his diagnosis in 2016 during a medical examination. He successfully fought his oncology. At that time, he was 71 years old.
After his battle, Rod advises every man to visit doctors and undergo screenings.
What is known about prostate cancer
In the material about the most common disease among men, we talked about how to diagnose prostate cancer and what it is. However, being more knowledgeable about health issues won't hurt.
Therefore, we remind you that this type of cancer develops slowly and asymptomatically in its early stages. So, you may not even suspect the active development of cancer cells in your body.
Benedict advises undergoing screenings and taking full responsibility for your health and the health of those around you. This is important because neglecting your body's needs may cost you your life.
Previously, we discussed dietary habits that can save you from cancer.