Proposal, not ultimatum: Zelenskyy's Office on reform list U.S. sent to Ukraine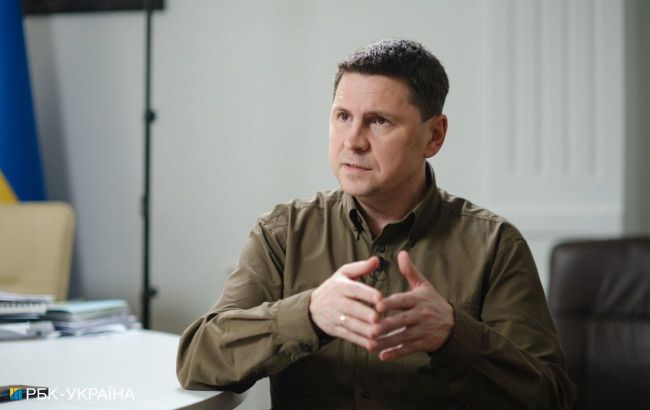 Advisor to the Head of the Office of the President of Ukraine Mykhailo Podolyak (Vitalii Nosach, RBC-Ukraine)
The list of priority reforms the United States gave to Ukraine for the fastest possible integration into Europe is a proposal, not an ultimatum, according to the advisor to the head of the Office of the President of Ukraine Mykhailo Podolyak.
"First of all, we assess pragmatically and rationally any proposals from our partners. This is indeed a proposal, not an ultimatum," he said.
Podolyak explains that these proposals are being made because the war requires certain reforms for the defense industry, investment attractiveness, and justice system.
"Our partners are saying like this: Look, if Russia is capable of investing part of its resources in prolonging the war, and even if Russia loses, Ukraine needs to look different. We need to understand our strategic priorities. So, we and our partners need to understand where to invest money," Podolyak said.
Most of the points are realistic
He also says that most of these points are realistic.
Podolyak notes that President Volodymyr Zelenskyy insists that Ukraine needs to complete the reform of the judiciary as a concept.
He talked about the timeline, saying that these are undoubtedly realistic things to do under one condition that we must not forget - the pace, intensity, and scale of the war.
List of reforms
Yesterday, the media reported that White House Deputy National Security Advisor for International Economics Mike Pyle sent a letter to Ukraine with a list of reforms it must undertake to continue receiving assistance.
The reforms include the functioning of anti-corruption agencies, the High Council of Justice, the overall judicial branch of government, as well as supervisory boards of state-owned enterprises.
Meanwhile, Prime Minister of Ukraine Denys Shmyhal previously stated that Ukraine aimed to discuss with its allies a unified reform roadmap to secure financial assistance.
Today, the U.S. Embassy in Ukraine confirmed that Washington had indeed sent to Ukraine a list of priority reforms for the fastest possible integration into Europe.