Prime Minister offers Poland, Hungary and Slovakia a compromise on grain exports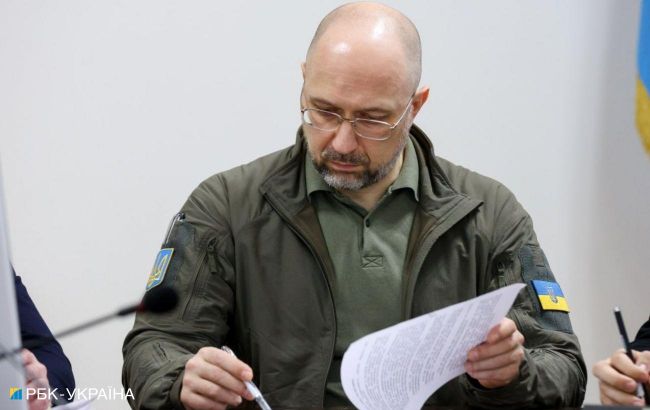 Prime Minister of Ukraine Denys Shmyhal (Photo: RBC-Ukraine, Vitalii Nosach)
Ukraine will file a lawsuit with the World Trade Organization (WTO) and will ban the import of food products from Poland, Hungary, and Slovakia in response. However, according to the Prime Minister of Ukraine, Denys Shmyhal, a compromise is possible.
As the Prime Minister noted, Ukraine will file a complaint with the WTO against Poland, Hungary, and Slovakia for unilateral restrictions on importing Ukrainian agricultural products.
"At the same time, our government offers the EU and neighboring countries a compromise scenario. We have already presented to the European Commission a plan for controlling the export of 4 groups of agricultural products from Ukraine," he wrote.
According to him, such control will help prevent market distortions in neighboring EU member states. "In particular, we plan to adopt a resolution stating that goods exported to 5 neighboring countries will receive verification and approval from the Ukrainian Ministry of Economy," the Prime Minister added.
Shmyhal announced that Ukraine has already formally requested Poland, Hungary, and Slovakia to violate the norms of the World Trade Organization.
"We are also starting an anti-discrimination investigation into the unfriendly actions of these countries in the trade sphere based on 2023 statistics. Suppose Poland and Hungary do not agree to coordinated measures with the European Commission and do not lift the unilateral bans on our goods. In that case, we will decide to ban the import of certain categories of goods from these countries into Ukraine," he added.
Ban on grain and WTO lawsuit
Recall that in April, Poland imposed a ban on the import of Ukrainian grain and other agricultural products, followed by other Eastern European countries. The European Commission supported them and allowed Poland, Hungary, Slovakia, Bulgaria, and Romania to ban wheat, corn, rapeseed, and sunflower seeds from Ukraine.
The European Commission decided to lift this ban on September 15. On the same day, Poland, Slovakia, and Hungary announced that they would maintain their restrictions on the import of Ukrainian grain despite the European Commission's decision.
On September 19, Ukraine filed lawsuits against Poland, Slovakia, and Hungary with the World Trade Organization due to the ban on grain imports.
Ukraine's Trade Representative Taras Kachka stated that Kyiv is taking the countries to the WTO, not through its trade agreement with the EU, because the world needs to see how EU member states behave toward their trading partners and their Union.
Kachka noted that Brussels' open defiance by Poland, Hungary, and Slovakia was not just an internal EU matter but caused what he called the "largest systemic problem" - whether international trading partners can trust Brussels to speak on behalf of the EU.