Prigozhin's death: Explosive device could be planted in plane's landing gear, Russian media says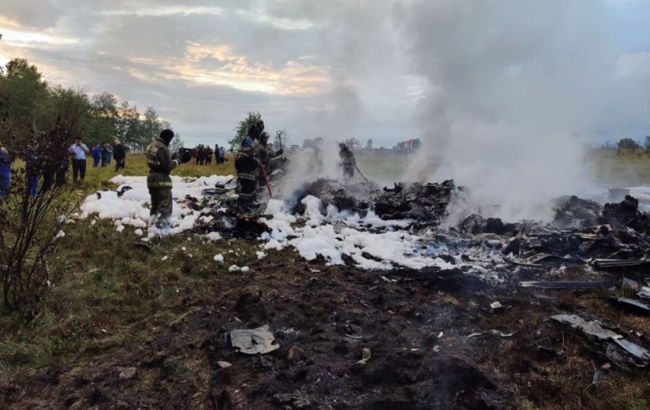 Prigozhin's death: Explosive device could be planted in plane's landing gear (Getty Images)
In the plane, the Wagner Group boss Yevgeny Prigozhin was flying, an explosive device could be planted in the landing gear compartment, according to the Russian Telegram channel Shot.
Russian media claims that one of the investigation's versions is the sabotage of the plane carrying the Wagner Group leadership.
According to the statement, the explosion occurred in the landing gear zone. As a result, the wing supposedly detached and struck the stabilizer. This caused the aircraft to gain altitude and then sharply drop.
"Due to the explosive decompression, everyone on board lost consciousness instantly, so the pilots couldn't report the emergency. In any case, without a wing and stabilizer, it was impossible to save the aircraft," Russians say.
Russian media explained the explosion by the fact that the tail section of the aircraft fell 5 kilometers away from the fuselage.
"At the moment, the version with an explosive device in the landing gear is being checked. Special orders have been issued at Sheremetyevo (Russian international airport) - all security service employees have been called in to work, even those on weekends and vacations," the media adds.
What is known about the plane crash
On Wednesday, August 23, a plane crashed on the territory of the Tver region, with reportedly 10 people on board. Later, it became known that the crash involved a business jet, and Rosaviatsiya reported that among the passengers of the plane was the leader of the Wagner Group leader Evgeny Prigozhin, and the leadership of the Private Military Company. Prigozhin's death in Russia has not been officially confirmed yet.
Russian state media also reported that rescuers found the remains of all 10 passengers of the plane. In Russia, there are various versions suggesting that the plane was destroyed by air defense systems, as well as a possible sabotage act.
For more information about the crash of the Wagner Group leader's plane, read the report on RBC-Ukraine.