President of Hungary arrives on a visit to Ukraine on August 22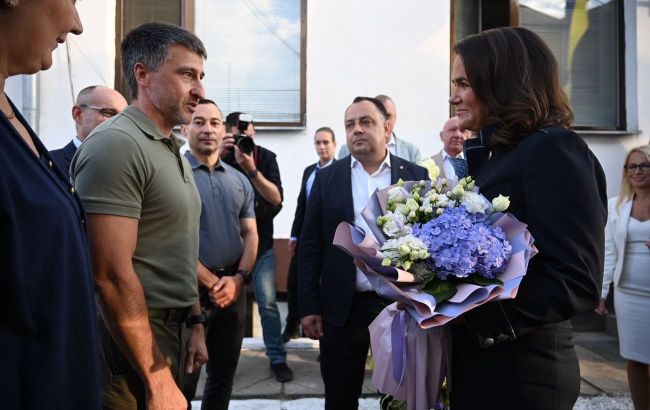 Hungary's President Katalin Novak arrived on a working visit to Ukraine on August 22 (Photo: facebook.com/odazakarpattya)
Hungary's President Katalin Novak arrived on a working visit to Transcarpathia on the eve of the third International Crimea Platform Summit, scheduled for August 23, according to the Transcarpathian Regional Administration.
Novak met with the leadership of the Regional State Administration, the Regional Council, Berehove, and the district. They discussed the results and prospects of enhancing cross-border cooperation, particularly the projects initiated in the context of the full-scale war.
These initiatives include humanitarian aid, assistance to refugees and internally displaced persons in Transcarpathia, organizing summer vacations for Ukrainian children in Hungary, and implementing joint environmental, educational, cultural, and other initiatives.
The Acting Head of the Regional State Administration, Myroslav Biletsky, hopes that the successful implementation of these joint projects will contribute to investment development and socio-economic growth in the border regions of both countries.
During her visit, the President of Hungary will also meet with political, religious, and educational figures from the Hungarian community in Transcarpathia, as well as the family of a fallen defender and children from large families. Afterward, she will head to Kyiv, where, at the invitation of Ukrainian President Volodymyr Zelenskyy, she will participate in the third International Crimea Platform Summit.
Hungary's stance on the war
Hungary's Prime Minister Viktor Orban maintains an openly pro-Russian stance, frequently making statements that discredit Ukraine.
Since the start of the full-scale war, Hungary has not provided military assistance to Ukraine and has blocked EU sanctions against Russia. Additionally, Budapest continues to trade with Russia and representatives of the Hungarian government visit Moscow.
Furthermore, Katalin Novak last met with Zelenskyy on November 26 of the previous year. At that time, she and the Prime Ministers of Poland and Belgium visited Ukraine.