Polish mechanics repair military equipment of Armed Forces of Ukraine near front line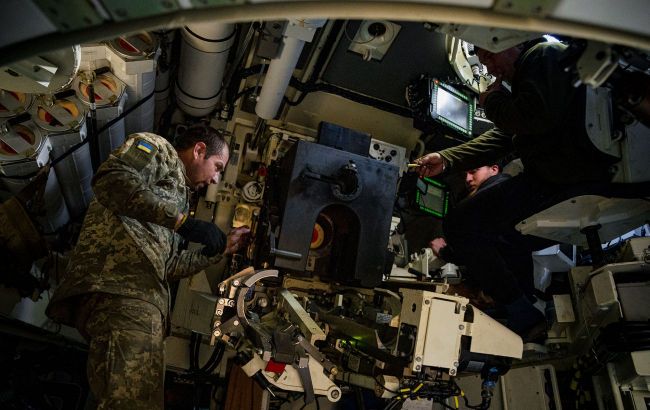 Polish mechanics repairing Ukrainian military equipment near front line (Photo: Getty Images)
A group of experts from the Polish Armaments Group is repairing military equipment provided to Ukraine near the front line of the war with Russia, according to PAP.
The publication reports that the experts have just returned from one of the combat zones, where they spent a week inspecting damaged equipment and fixing minor malfunctions. This involves employees of the company PGZ Serwis Orel, which services, among other things, the Krab self-propelled howitzers, Leopard tanks, and transport vehicles for carrying ammunition on the Jelcz truck chassis supplied from Poland.
Their task is to check the technical condition of the equipment the Armed Forces of Ukraine uses. Based on this, they make decisions about further actions. They fix minor malfunctions on-site and more significant ones in workshops in Ukraine, and the most damaged machines requiring specialized equipment are sent for repair to Poland.
The Polish equipment used on the front line operates under the highest operational loads, significantly exceeding the number of cycles it was designed for.
"The Krab self-propelled howitzers have already exceeded their resource several times. This equipment is very effective at performing its tasks. Unfortunately, this leads to our equipment attracting extreme interest from the opposite side. The Russians are actively hunting for it," said a PAP interlocutor.
At the same time, Polish specialists, in an interview with PAP, mention that they do not yet feel like heroes "compared to what the Ukrainians are doing."
"We have to perform tasks in the area under the influence of Russian artillery, but what the Ukrainians are doing cannot even be compared with the word 'courage,'" said the head of the technical group.
He emphasized that the Poles work in Ukraine, adhering to safety rules and trying not to attract the interest of the opposite side.
Repair of military equipment in Poland
In July, a service center for repairing Ukrainian Leopard tanks opened in Poland.
In early October, Ukraine received a batch of refurbished Leopard 2 tanks from Poland.