Police stoned at pro-Palestinian protest in Berlin, dozens detained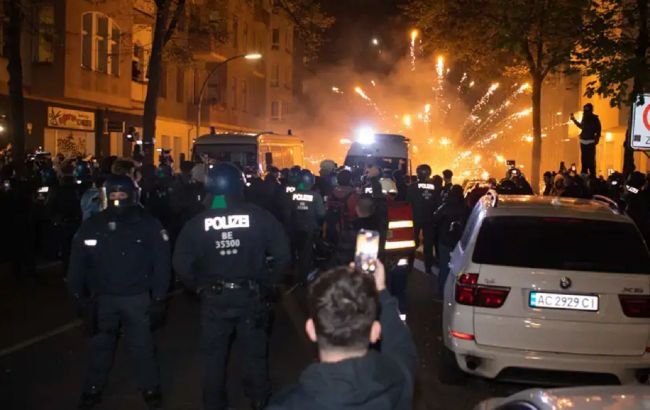 Clashes with police at a pro-Palestinian rally in Berlin (Paul Zinken/dpa/picture alliance)
In the German capital of Berlin, unauthorized pro-Palestinian protests took place, marked by disturbances and clashes with the police. Demonstrators pelted law enforcement officers with stones and bottles and used fireworks, according to DW.
The protests occurred in the evening on Wednesday, October 18, in the Berlin district of Neukölln, which is home to a large number of Arab migrants. The demonstrations escalated into confrontations with the police on Sonnenallee Street and lasted for several hours.
Similar pro-Palestinian demonstrations also occurred the day before in multiple Berlin neighborhoods. On October 17, activists also attacked the police, resulting in injuries to 20 law enforcement officers. 39 participants in the protest were detained, and criminal cases were opened against 65 individuals.
Reports indicate that the current demonstrations had a hostile atmosphere, with participants chanting "Free Palestine," setting objects on the streets on fire, and using fireworks, which led to a balcony fire in one of the buildings.
+++ Videoupdate +++
Berlin, Neukölln
Die Demonstranten liefern sich Straßenschlachten mit der Polizei.#Berlin #Neukoelln #Polizei #Einsatz #Blaulicht pic.twitter.com/NjnPScC04w

— BlaulichtRheinlandNRW (@nrw_blaulicht) October 18, 2023
Law enforcement officers reported that several police officers were injured as a result of the clashes overnight on October 19. Several dozen protesters were also reported to have been arrested.
According to Barbara Slowik, the head of the Berlin police, the situation in the northern part of Neukölln "remains tense."
Jochen Koppelke, the head of the police union in Germany, called for consistent action in response to the disturbances organized by pro-Palestinian demonstrators and deemed the attempt to set fire to a Jewish center in Berlin as "utterly repugnant in the atmosphere of Germany."
Previously, it was reported that in the United States, hundreds of activists were arrested by the police after they stormed the Capitol building, demanding an immediate ceasefire in Gaza and the cessation of military aid to Israel.