Poland to launch electronic barrier on border with Russia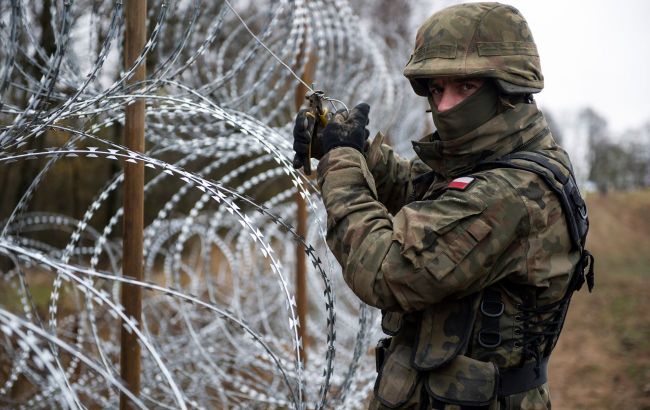 Poland will launch an electronic barrier on the border with Russia (Photo: Getty Images)
Poland has commenced testing an electronic barrier on the border with Russia, with plans to hand it over to its border service for further use in the coming days, according to a statement of Anna Michalska, the press secretary of the Polish Border Guard, cited by PAP.
The construction of the electronic barrier on the border with the Königsberg region began in April. This system of cameras and motion sensors will cover approximately 199 km. It will be divided into 12 sections.
It is expected that the entire system will be ready by the end of September.
Michalska reported that the final of the twelve electronic containers had been installed at the border, near Goldap.
"These are important components of the electronic barrier that integrate all systems in different sections," she noted.
According to her, on one of the sections, the contractor company Telbud has already installed all the equipment, including cameras and detection cables. This section is located in the Shchurkova area, guarded by the border service in Senpol.
"Currently, the contractor is testing this section in order to hand it over to us for acceptance in the coming days," explained Michalska.
She mentioned that other sections would be sequentially accepted in the following weeks.
Provocations on the border with Belarus
After mercenaries from the Wagner Private Military Company began moving from Russia to Belarus, neighboring countries started strengthening their borders.
Poland plans to send an additional two thousand soldiers to support the Border Guard on the border with Belarus.
The Latvian Cabinet announced a six-month heightened security regime for the border with Belarus.
Meanwhile, Lithuania plans to close two out of the six border crossing points with Belarus to reduce the risk of provocations and threats at the border.
The Prime Minister of Poland, Mateusz Morawiecki, and the President of Lithuania, Gitanas Nausėda, believe that the Wagner Private Military Company mercenaries in Belarus could carry out provocations on the borders of NATO countries.