Poland, South Korea agree to cooperate on Ukraine's post-war recovery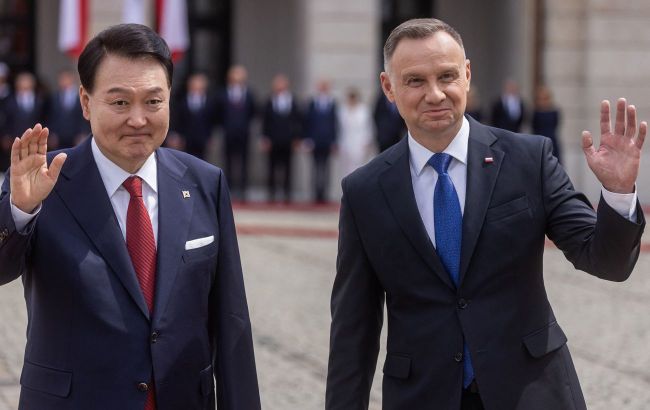 President of South Korea Yoon Suk Yeol and Polish President Andrzej Duda (Getty Images)
Poland and South Korea have reached an agreement today to assist Ukraine, as the states signed a memorandum of cooperation concerning Ukraine's post-war recovery, The Chosun Ilbo reports.
President Yoon Suk Yeol held a high-level meeting with Polish President Andrzej Duda while paying an official visit to Warsaw.
The leaders signed a memorandum of cooperation on Ukraine's recovery. However, the details of this memorandum have not yet been disclosed.
"We have agreed that South Korea and Poland can be optimal partners in the recovery of Ukraine," said the leader of South Korea.
He added that agreed with the Polish president to work in solidarity to uphold an international order based on norms. "We have decided to continue keeping it," he added.
Aid from South Korea and Poland
South Korea has provided non-lethal aid to Ukraine fighting against Russian aggression.
Poland has transferred a dozen Mi-24 helicopters to Ukraine.
Prime Minister of Ukraine Denys Shmyhal announced that Ukraine has received new agreements regarding its recovery. This includes a project for the renovation of public transport and more.