Overnight attacks in Ukraine: What's known about shelling consequences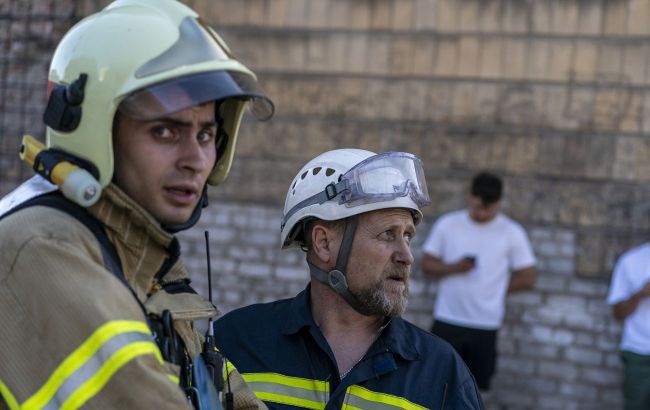 On October 1st, the occupiers shelled Uman, Kryvyi Rih, and Kharkiv (Photo: facebook.com/cherkasypolice)
Russian occupiers once again attacked Ukraine on the night of October 1st. Eastern, central, and southern regions of our country were under fire.
What is known about the consequences of the overnight shelling is in the material by RBC-Ukraine below.
Sources used in preparing the material include: Telegram of Oleh Syniehubov, the head of the Kharkiv Regional Military Administration; Vitalii Kim, the head of the Mykolaiv Regional Military Administration; Ihor Taburtsia, the head of the Cherkasy Regional Military Administration; and Oleksandr Vilkul, the head of the Defense Council of Kryvyi Rih. Additionally, information was obtained from the Facebook pages of the Cherkasy Regional Police and the State Emergency Service of the Kharkiv egion.
What did the occupiers use as weapons
During this night, the Russians launched 30 kamikaze drones over Ukraine. These Shaheds were launched from the temporarily occupied Crimea, Kursk, and the Krasnodar Krai of Russia. Ukrainian anti-aircraft forces successfully shot down 16 enemy drones.
The occupiers also fired S-300 surface-to-air missiles at Kharkiv. These launches were made from the territory of the Belgorod Oblast in Russia.
Uman
Russian drones targeted the city of Uman in the Cherkasy region during the night. The attack damaged industrial infrastructure.
Photo: Police show the aftermath of the shelling in Uman (facebook.com/cherkasypolice)
As a result of the attack, fires broke out in warehouses, including those storing grain. According to preliminary information, one person was injured and hospitalized.
Kryvyi Rih
In Kryvyi Rih, civilian infrastructure was damaged due to drone attacks. It is reported that the occupiers targeted industrial areas.
A fire erupted in the city but was quickly extinguished. Fortunately, no one was injured as a result of the attack.
In the Dnipro region, Ukrainian anti-aircraft forces shot down an enemy drone.
Mykolaiv region
According to the Mykolaiv Regional Military Administration, at around 1:15 AM, drone strikes were recorded outside the settlement of Snihurivka. The attack damaged the warehouse of an agricultural enterprise. Dry grass caught fire, but the fire has been extinguished.
Additionally, in the Mykolaiv region, a Shahed drone was destroyed.
Kharkiv
After midnight, Russian terrorists launched S-300 missiles at Kharkiv. Three missiles were recorded flying in the Kholodnohirskyi district of the city.
Civilian enterprises were also targeted by the enemy. Fortunately, no one was injured as a result of the attack.