Over 35,000 Hasidic Jews arrive in Uman for Rosh Hashanah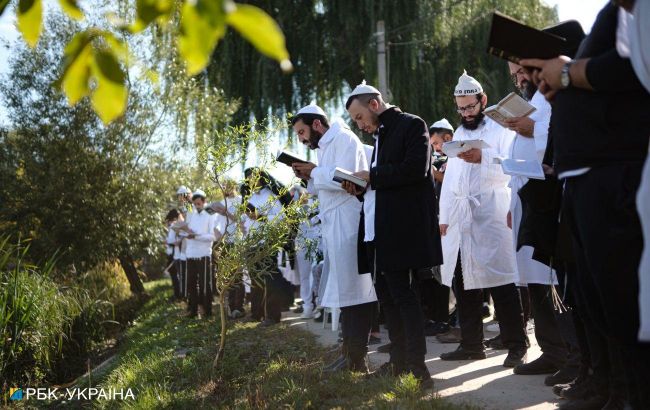 More than 35,000 Hasidic Jews have arrived in Uman for Rosh Hashanah (Photo: Vitalii Nosach, RBC-Ukraine)
Thousands of pilgrims have arrived in Uman for the celebration of Rosh Hashanah (Jewish New Year). A coordination center is operating in the city, according to the Ministry of Internal Affairs.
According to law enforcement agencies, despite the ongoing war, more than 35,000 Hasidic Jews have arrived in Uman this year.
A coordination center operates in the city around the clock, with representatives from the National Police, National Guard, State Emergency Service, Emergency Medical Service, and other services. Israeli police officers have also arrived in Uman.
A ban on the sale of alcoholic beverages, low-alcohol drinks, pyrotechnic devices, and cold weapons is in effect.
Photo: More than 35,000 Hasidic Jews have arrived in Uman (t.me/mvs_ukraine)
Rosh Hashanah celebration
The Jewish holiday of Rosh Hashanah is celebrated in honor of the creation of the world, symbolizing the beginning of the new year and the conclusion of the past year. This year, Rosh Hashanah will be observed from September 15th to 17th.
During the European New Year period, Hasidic Jews gather in Uman, as the city is home to the tomb of the tzaddik Nachman. However, this year, Israeli authorities urged pilgrims not to travel to Ukraine.
It was previously announced that Uman would introduce a series of restrictions during the Rosh Hashanah period. This includes a ban on selling alcohol, fireworks, firecrackers, and toy weapons that mimic real ones.