Outbreak of Legionnaires' disease in Poland: What's it and are Ukrainians under threat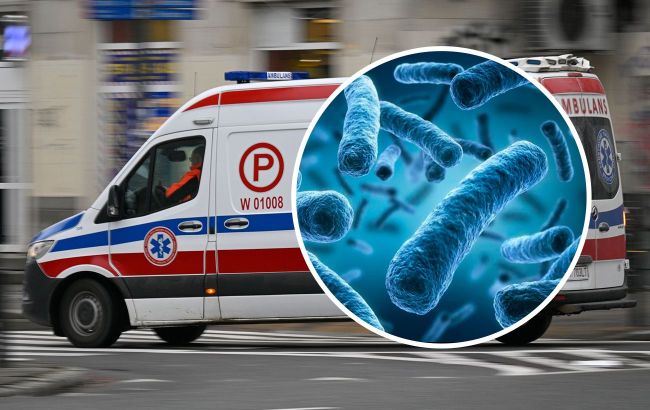 What is known about the Legionnaires' disease outbreak in Poland (Photo: Collage by Styler)
In the Polish city of Rzeszów, located in the southeastern part of the country, a serious outbreak of Legionnaires' disease, also known as legionellosis, has occurred. Reports indicate 16 fatalities and over 100 people infected.
Learn about the disease, its symptoms, and whether there is a threat to Ukrainians in the article.
What is Legionnaires disease
This disease goes by several names—legionellosis, Legionnaires' disease, Pittsburgh pneumonia, and Fort Bragg fever. According to WHO data, the Legionella bacteria were first discovered in 1977.
Its name stems from the first outbreak that occurred in 1976 during a conference of the American Legion military veterans' association in Philadelphia. That incident affected 220 people, resulting in 34 fatalities.
The incubation period of the disease ranges from 2 to 10 days (during certain outbreaks, this period extended to 16 days).
The most common mode of transmission is through the inhalation of contaminated aerosols, which are formed when water is sprayed, generates streams, or forms mist containing the bacteria.
Legionella pneumophila and its associated species are typically found in lakes, rivers, streams, hot springs, and other bodies of water. The disease is not transmitted from person to person.
Infection can occur due to the aspiration of contaminated water and ice, especially in patients who are vulnerable under hospital conditions.
Artificial water systems often become sources of infection when conditions are conducive to the growth and multiplication of the bacteria.
These bacteria thrive and multiply in water systems at temperatures between 20 to 50 degrees Celsius (68 to 122 degrees Fahrenheit), with an optimal temperature of 35 degrees Celsius (95 degrees Fahrenheit).
In infected individuals, pneumonia rapidly develops along with respiratory distress or failure and multi-organ failure. Often, the body cannot combat the bacteria, leading to a deterioration of the condition and eventual death.
Specific medications are available for treating legionellosis, but there is no vaccine against this bacteria.
This disease is prevalent worldwide and periodic outbreaks occur. In Europe, Australia, and the USA, approximately 10-15 cases of this disease are identified annually.
The majority of patients (75-80%) are individuals over 50 years old, and 60-70% of cases affect males. Risk factors include immunodeficiency, chronic respiratory and kidney diseases, lung diseases, excessive alcohol consumption, and smoking.
Symptoms of Legionnaires' disease
This disease has two types of infection: pneumonia and non-pneumonia forms.
Non-pneumonia form - Pontiac fever:
Acute onset similar to the flu - lasts 2 to 5 days;
Fever and chills;
Headache;
Malaise;
Muscle pain (myalgia);
This type of infection is less dangerous and doesn't lead to death. Typically, the illness lasts up to 10 days.
Pneumonia form:
Fever;
Loss of appetite;
Headache;
Drowsiness;
Malaise;
Diarrhea;
Confusion;
Muscle pain
Mild cough, often with sputum;
Cough quickly develops into rapid-onset pneumonia, leading to fatal outcomes.
Both forms require treatment with antibiotics for several weeks to months.
About the outbreak in Poland
Since mid-August, there have been over 145 reported cases of the illness in Rzeszów. As of August 30, there were 16 reported deaths. All the deceased were aged between 64 and 95 years.
According to Polish media, the presence of the Legionella bacteria was confirmed in Rzeszów's water supply system.
"However, the source of contamination remains unknown. The obtained results do not currently provide grounds to identify a potential source of infection. About 100 water samples from Rzeszów are awaiting testing," local sanitary and epidemiological service reported.
Polish counterintelligence, ABW, is conducting its own investigation to prevent external interference that could have led to the outbreak.
It's worth noting that Rzeszów is a key logistical center in Poland for sending military and humanitarian aid to Ukraine and serves as a base for the US military.
In addition to Rzeszów, a few cases of Legionnaires' disease have been identified in other areas - 1 in the Krakow region and 2 in Ostrów Wielkopolski, which is 450 km away from Rzeszów.
On Sunday, the water supply system in Rzeszów was thoroughly disinfected. The Mayor of Rzeszów, Konrad Fijołek, stated that the city has maximized the levels of chlorine, ultraviolet rays, and ozone used for water purification.
Is This disease a threat to Ukrainians?
Unfortunately, Ukrainian citizens living in Rzeszów may be susceptible to Legionnaires' disease, as the source of the bacteria is in the water. The sanitary and epidemiological service has not yet confirmed the water supply as the source of infection.
It's advisable to refrain from drinking tap water for the time being and to heat the water to temperatures above 50-60 degrees Celsius if necessary. It's also recommended to exercise caution while visiting water bodies and pools.