Oniks vs Iskander-M: Key differences in missiles Russia uses to terrorize Ukraine's south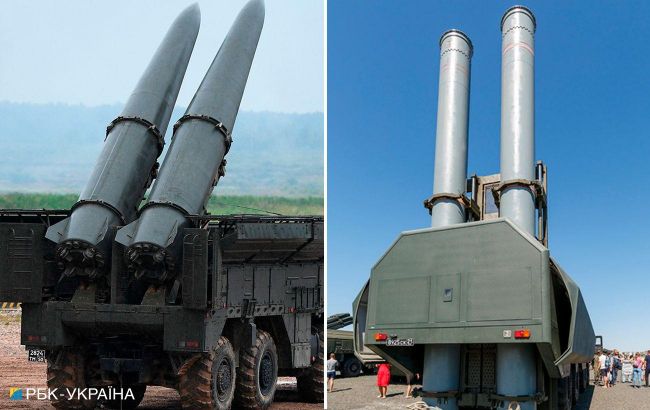 Oniks vs Iskander-M missiles (RBC-Ukraine collage)
Russian missiles Oniks and Iskander-M have several differences. While the first one is anti-ship, the second is ballistic and operates on a different mechanism. However, they are both used by Russia in their attacks on southern Ukraine.
The main differences between the Oniks and Iskander-M missiles are described below.
To prepare the story, the following sources were used: statements of a spokesman of the Air Force of the Armed Forces of Ukraine Yurii Ihnat, head of the United Coordination Press Center of the Southern Defense Forces Natalia Humeniuk, military portal Defense Express, Defense Intelligence of the Ministry of Defense.
Rocket attacks on the south
The tactics of Russian occupiers have not changed significantly, and rocket attacks on territories, including the south, continue. For example, this morning, the enemy launched another attack, targeting a ship repair yard in the Odesa region.
Initially, monitoring channels reported that the attack was supposedly carried out with Oniks missiles. However, according to the South Defense Forces, these were ballistic missiles Iskander-M.
"In this case, experts agree that ballistic weapons were indeed used, following a ballistic trajectory. Most likely, three Iskander-M missiles hit the territory of the ship repair yard and its vicinity," said Natalia Humeniuk, a representative of the South Defense Forces.
Iskander-M
The first strikes on Ukraine at the beginning of the full-scale invasion were carried out with Iskander missiles, aimed at destroying Ukrainian air defense systems. The enemy continues to use them for their attacks.
Photo: Iskander complex with missiles (armyinform.com.ua)
Technical specifications
The Iskander operational-tactical missile system was introduced in 1999.
False targets are used in Iskander systems to evade enemy anti-aircraft systems.
Possible warhead types: cassette, concrete-piercing, nuclear.
Range of Iskander-M ballistic missile launches: up to 500 km. The 9M729 cruise missile modification of the complex has a maximum range of 2500 km.
Speed of Iskander ballistic missile: 2100 m/s.
Missile launch weight: 3800 kg.
Warhead weight: 480 kg.
Length: 7.3 m.
Diameter: 920 mm.
Launch interval: 1 minute.
P-800 Oniks
The aggressor country has been using Oniks missiles for strikes on Ukraine since last year. In April 2022, the Odesa airport came under attack, and in May, an airfield in Arzyts was targeted. The Russians shelled them from the territory of the occupied Crimea.
Photo: P-800 Oniks - a medium-range anti-ship missile (wikipedia.org)
Technical specifications
Length (ship version) - 8 meters;
Length (aviation version) - 6.1 meters;
Launch weight - 3,000 kilograms;
Wingspan - 1.7 meters;
Weight with TPS (transport-launch container) - 3,900 kilograms;
Maximum speed - 884 meters per second;
Range on a height trajectory - 450-500 kilometers;
Cruising altitude - up to 14,000 meters;
Altitude on the terminal phase - 10-15 meters;
Target detection range - no less than 50 kilometers;
Ready time from activation - over 2 minutes.
Distinguishing features of these missiles
Purpose
The primary purpose of Iskander missiles is to destroy air defense and anti-missile defense systems, as well as ground targets.
In contrast, Russian Oniks missiles are designed to combat surface targets. They are launched from the Bastion complex, which enemy forces have stationed in temporarily occupied Crimea. The versatility of these missiles lies in the fact that they can be launched from submarines, ships, aircraft, and more.
Capability to carry a nuclear warhead
Unlike Oniks missiles, Iskander missiles (as claimed by the manufacturers) can be used as a means of delivering tactical nuclear weapons.
Production
Iskander-M is an operational-tactical missile system developed in Moscow. It is in service with the Russian army and is currently being manufactured. According to Ukraine's Intelligence data, the enemy can produce these missiles at a rate of 5 units per month.
P-800 Oniks (export name Yakhont) is a Soviet development from the 1970s. Regarding the stockpile of these missiles in Russia, there is no precise information on whether they continue to produce them, but it is not excluded that the Soviet design is undergoing modernization and improvement.
Common challenges in intercepting these missiles
The South Operational Command officially reported the interception of the P-800 Oniks in June 2022. It was mentioned that in four launches, only eight missiles were intercepted in total. However, this information later became unavailable.
As explained by the Ukrainian Air Force Command, P-800 Oniks is exceptionally challenging for Ukrainian air defense. But in some cases, countering is possible. This missile has a radar-guided warhead, which can be jammed using electronic warfare (EW) measures. That's why some of these missiles fail to reach their targets, and active countermeasures are employed. It's more effective to deal with them not in the air but by destroying the launch platforms.
As for the ballistic Iskander missiles, this threat was practically beyond the capability of Ukrainian air defense for a considerable time. However, with the acquisition of modern Western air defense systems, they have started to contribute to the statistics of intercepted missiles.
For example, missile defense systems like Patriot and SAMP-T, which Ukraine has in its arsenal, are capable of intercepting such missiles.