Number of Russians willing to surrender highly increased after Mi-8 'hijacking'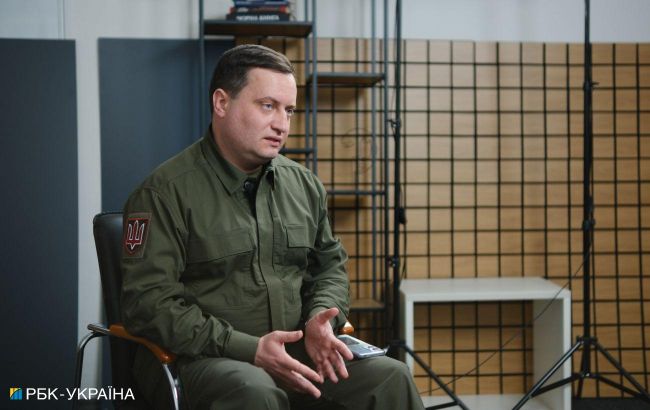 Andrii Yusov, a representative of the Defense Intelligence of Ukraine (Photo: RBC-Ukraine, Vitalii Nosach)
After the Russian pilot, Maxim Kuzminov flew a Mi-8 helicopter to Ukraine, the number of Russian military personnel willing to surrender to the Armed Forces of Ukraine has increased by 70%, a representative of the Defense Intelligence (GUR) of Ukraine, Andrii Yusov, stated during an interview on Radio Liberty.
"There has been a significant increase along the "Khochu zhit" (I Want to Live) hotline (for receiving appeals from Russian servicemen) and through other communication channels. After the successful operation "Sinytsia" (Titmouse) with the Mi-8 and its pilot, the number of Russian military personnel considering a similar scenario for themselves has increased by approximately 70% in one day," he said.
Yusov also commented on the information from Telegram channels suggesting that a person who hands over a Russian MiG fighter jet to Ukraine may receive a reward of $2 million.
"This information has more of a legend and grassroots initiative character. However, of course, there will be a reward for the MiG," the intelligence officer stated.
"I Want to Live" is a state project initiated by the GUR that assists Russian military personnel in surrendering to the Ukrainian Armed Forces and preserving their lives.
Operation "Sinytsia" (Titmouse)
On August 23, reports emerged about a Russian Mi-8 helicopter landing in Ukraine. Later, it was revealed that this was a unique operation conducted by Ukrainian intelligence with the participation of representatives from other Ukrainian defense forces. The helicopter will soon be operational with the Ukrainian Armed Forces.
The Russian pilot who aided the GUR stated that his primary motivation was a categorical rejection of the Kremlin's aggressive war.