Russian pilot reveals details of 'hijacking' Mi-8 to Ukraine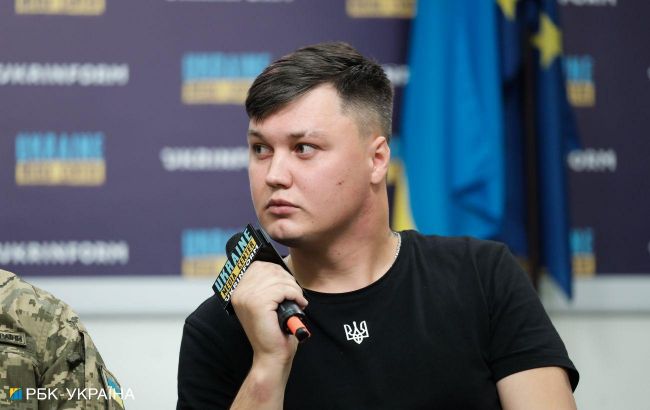 Russian pilot Maxim Kuzminov (Photo: RBC-Ukraine, Vitalii Nosach)
The pilot of the Russian Mi-8 helicopter, which was successfully brought to Ukraine as part of the "Sinytsia" special operation, shared details of how it all happened on the press conference held by the Russian pilot Maxim Kuzminov and representatives of the Main Intelligence Directorate (GUR).
"On the ninth day, the flight took place. I had an official request for takeoff. So, I didn't just steal the helicopter; I officially flew it from point A to point B," he explained.
According to the pilot, the flight route was pre-approved.
"At 16:30, I took off. I took off from the Kursk aerodrome to the Kharkiv region, about 20 kilometers. Then, in the area of the settlement Shebekino, I flew at a low altitude of 5-10 meters in radio silence mode," Kuzminov detailed.
He mentioned that when crossing the border, the helicopter came under fire.
"As for who was firing, I cannot say for sure, but I suspect it was the Russian side. I was wounded in the leg by small arms fire. I flew about 20 kilometers, then landed. After landing, there were two crew members with me. We had no weapons with us, and no one resisted me. I tried to calm down the guys (the crew members) and told them they were good people and everything was fine. But they started getting scared and behaving aggressively. They ran out of the helicopter, and I don't know what happened to them afterward," he clarified.
Consequences of the "special operation" for Russia
According to the representative of the Defense Intelligence of Ukraine, Andrii Yusov, this operation "will have long-term consequences" for the aggressor state and the moral and psychological state of the occupiers.
"And for Russia's security sector. Because of this operation, critical information about the enemy's aviation and many other details that will help defend the sky and destroy the enemy has been obtained," he said during a press conference.
He noted that this particular operation currently has no analogs in Ukraine.
"In world history, we can cite examples of how pilots from various considerations defected to the other side. But in this situation, we are talking about a certain phase of combat actions during a full-scale war," added the intelligence officer.
Yusov added that this is "just the beginning" and "there's more to come."
Operation "Sinytsia" (Titmouse)
On August 23, information emerged on the internet about a Russian Mi-8 helicopter landing in Ukraine. Commentators offered various versions. One of the most popular was that the pilots had lost their bearings.
However, it soon became known that it was a unique operation of Ukrainian intelligence involving representatives of other defense forces.
Recently, it was announced that the "captured" helicopter would soon be on combat duty as part of the Armed Forces of Ukraine.