North Korea's weapons will allow Putin to prolong war in Ukraine - Bloomberg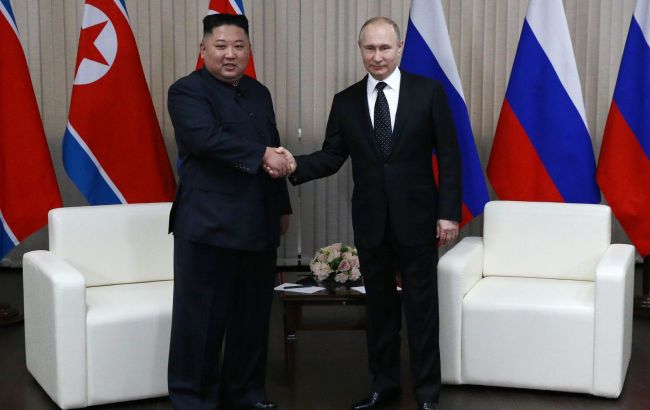 Kim Jong-un intends to supply Putin with weapons (Getty Images)
North Korean weaponry could potentially enable Russia to continue its invasion of Ukraine. However, it is not modern enough to significantly alter the course of the Kremlin's two-year-long war, Bloomberg reports.
Leader Kim Jong Un is expected to cross into Russia this week for his first trip outside the peninsula in four years for talks with President Vladimir Putin. The US has said the meeting would focus on supplying munitions to Moscow.
North Korea possesses some of the largest stockpiles of artillery and unguided rockets that could be used in the Soviet-era weaponry Russia is using to launch indiscriminate attacks on Ukraine.
"Supplies of ammunition from North Korea are unlikely to be decisive in the short term but will make it easier for Russia to continue a war of attrition," said Terence Roehrig, a professor of national security affairs at the US Naval War College.
"A significant part of Putin's strategy is an assessment that Russia can outlast Ukraine and the West's support that is essential to Ukraine's survival. More ammunition allows Putin to continue this strategy," he said.
Seeking military assistance from North Korea would mark a turning point for both states. The Soviet Union was North Korea's major sponsor for 75 years since its inception, providing weaponry during the early stages of the Korean War in 1950-1953.
Munitions from North Korea could buy time for Russia, giving its industry a chance to catch up with demand.
"Adding North Korea to the list of arms suppliers in the war would aid in gap filling munitions and other weapons systems that Russia's own arms producers are having a hard time filling," said David Schmerler, a senior research associate at the James Martin Center for Nonproliferation Studies.
He added that the decision to turn to North Korea for military assistance "might be indicative of struggles to maintain production at home."
Putin's wish list likely includes 122 mm and 152 mm artillery rounds as well as 122 mm rockets. Heavily sanctioned North Korea doesn't have access to technology that would allow it to mass produce any sort of precision guided weapons. It does have stocks of anti-tank missiles and surface-to-air missiles, but its arms may not be much of a match to some of the newest weapons the US and its NATO partners have been sending to Ukraine.
According to arms expert Joost Oliemans, North Korea is also one of the few countries with sufficient stocks of Soviet-era tanks similar to those Moscow has deployed in Ukraine, such as T-54 and T-62 models, and it could supply spare parts.
Previously, Reuters reported that Russia may be able to increase its production of artillery munitions to 2 million per year, but this is still insufficient for waging a war against Ukraine.
Currently, Russia is negotiating with North Korea for the supply of artillery munitions and other weaponry. According to the Financial Times, both sides are prepared to make a deal. The U.S. has responded by promising to impose even more sanctions on the countries.
For more details on the arms supply from North Korea, read the RBC-Ukraine article "Why Russia needs ammo from North Korea, and will Kim Jong Un agree to transfer them: Expert insights."