North Korea launched two ballistic missiles during Kim Jong Un's visit to Russia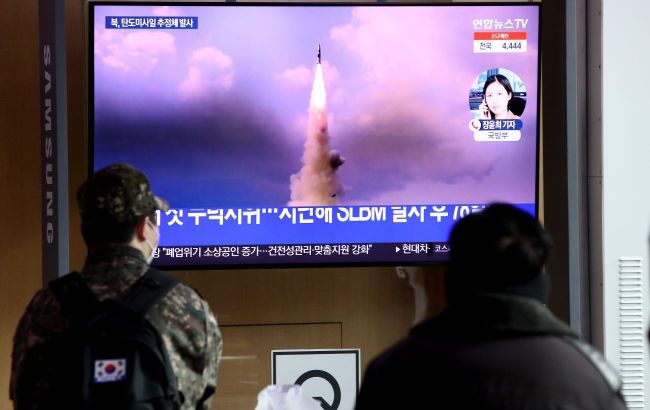 North Korea conducted the launch of two ballistic missiles (photo: Getty Images)
North Korea launched two short-range ballistic missiles toward the Sea of Japan during Kim Jong Un's visit to Russia, according to Kyodo.
The Joint Chiefs of Staff of the South Korean Armed Forces stated that North Korea launched the missiles from the Sunan area near Pyongyang.
Japan's Ministry of Defense noted that the missiles flew eastward approximately 350 and 650 kilometers, reaching a maximum altitude of 50 kilometers before falling near the eastern coast of the Korean Peninsula, outside Japan's exclusive economic zone.
Prime Minister Fumio Kishida instructed relevant ministries and agencies to gather full information on the North Korean missile launches.
Chief Cabinet Secretary Hirokazu Matsuno announced in a press conference that the government had lodged an official protest with North Korea through the embassy in Beijing.
North Korea's missile launches
North Korea regularly conducts training and testing launches of its ballistic missiles of various ranges.
For example, on August 30, it was reported that North Korea launched a ballistic missile towards the Sea of Japan. Prior to that, on August 23, a North Korean missile, after launch, passed through Japanese airspace and continued its trajectory towards the Pacific Ocean.
It's important to note that North Korea regularly asserts its "undisputed status as a nuclear state" and conducts frequent launches of ballistic missiles into the East and Yellow Seas. Recently, North Korean leader Kim Jong-un issued orders to increase arms production to "enhance combat capabilities."
Meanwhile, North Korea has made two attempts to put a "military spy satellite" named Malligyong-1 into orbit, on May 31 and August 23, but both attempts were unsuccessful. Currently, South Korea and the United States are searching for missile debris on the seabed.