North Korea admitted launching reconnaissance satellite failed again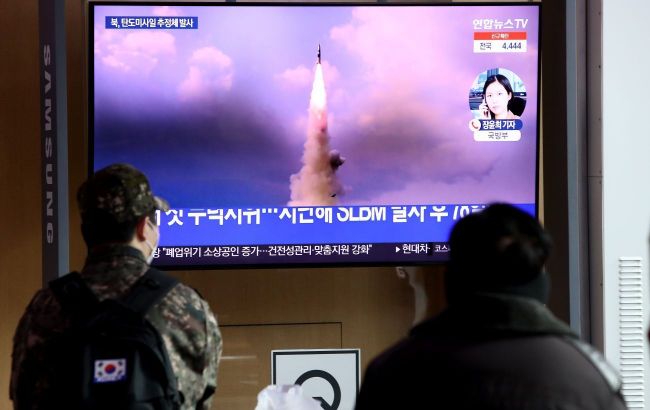 North Korea states that the launch of a rocket with a spy satellite did not succeed (photo: Getty Images)
In North Korea, they stated that the latest attempt to launch a reconnaissance satellite into orbit ended in failure, with a promise to conduct a new launch this autumn, according to AFP.
The National Aerospace Development Administration of North Korea conducted the second launch of the reconnaissance satellite Malligyong-1 aboard the new type of carrier rocket, Chollima-1, at the Sohae Space Center in Cholsan County.
According to the official Korean Central News Agency (KCNA), the flights of the first and second stages of the rocket "proceeded normally, but the launch did not occur due to an error in the emergency detonation system during the flight of the third stage."
The company also stated that the "cause of the accident is not a serious problem," promising to conduct a third launch in October after studying the issue and taking measures to address it.
As reported by the Joint Chiefs of Staff of South Korea, on the evening of August 23, they detected the launch of "what North Korea claims to be a space launch vehicle." The military also added that the object "crossed international airspace" over the Yellow Sea.
North Korea's unsuccessful attempts to place a spy satellite into orbit
On August 23, initially, the launch of North Korea's rocket was reported by the Japanese government. Tokyo stated that Pyongyang had used banned ballistic missile technology and that the projectile flew through Japan's airspace near Okinawa.
Before this, at the end of May, North Korea also attempted to place the "spy satellite" Malligyong-1 into orbit, but the carrier rocket lost thrust and fell into the Yellow Sea.
Subsequently, on June 16, South Korea retrieved several parts of the rocket and satellite from the sea floor. After analyzing the recovered pieces, experts stated that the "satellite" had no actual reconnaissance utility.