Night drone attack on Kharkiv on August 1: consequences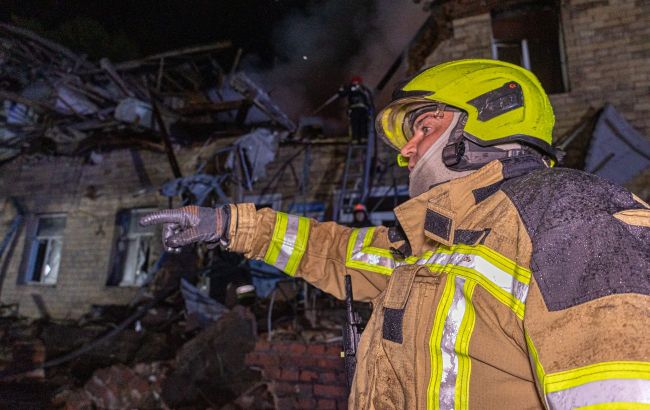 Consequences of the night drone attack on Kharkiv on August 1 (Photo: facebook DSNSKHARKIV)
Russian occupying forces carried out strikes on the Saltyivskyi and Shevchenkivskyi districts of Kharkiv during the night of August 1 using drones. The attacks hit a dormitory and a sports facility, resulting in injuries to a man.
According to the head of the Kharkiv regional police, Volodymyr Tymoshko, the Russian Federation launched 7 Shahed drones at the city, resulting in the destruction of two buildings.
Dormitory hit
One of the drones reportedly hit a three-story educational institution building in the Saltyivskyi district. The State Emergency Service reported partial destruction of the second and third floors, as well as the roof. There were no people inside the building at the time.
As a result of the strike, a fire broke out covering an area of approximately 200 square meters. Nine units of equipment and 50 rescuers responded to the scene. The State Emergency Service published photos of the aftermath.
Sports facility hit
In the Shevchenkivskyi district, the sports facility area experienced three hits from the drones. The State Emergency Service stated that the two-story building was partially damaged due to the attack.
Man injured
Dmytro Chubenko, the spokesperson for the Kharkiv regional prosecutor's office, reported that a security guard was injured as a result of the drone strike on the sports facility in the Shevchenkivskyi district. He was taken to the hospital for treatment.
Russian shelling of Kharkiv
During the night of August 1, the Russian occupying forces launched a series of strikes on Kharkiv using kamikaze drones. According to media reports, after the series of explosions, the city is facing power outages, and in some areas, water supply has been disrupted.
The previous day, on July 31, at least one person was injured in Kharkiv due to a Russian missile strike from the S-300 complex.