New war strategy and 24 minutes for Trump: Key statements from Zelenskyy's interview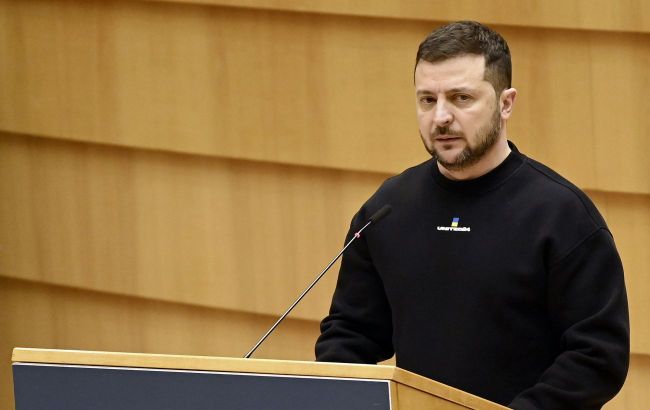 Ukrainian President Volodymyr Zelenskyy (photo: Getty Images)
Ukrainian President Volodymyr Zelenskyy gave an interview to the American television channel NBC News, in which he discussed plans to change the strategy of the war with Russia, made harsh remarks about the Russian dictator, and commented on controversial statements by Donald Trump.
RBC-Ukraine has compiled the main statements from the interview with the Ukrainian president.
About the frontline situation
Zelenskyy reiterated that the situation on the front lines is not at a deadlock today.
"They thought they could defeat us, but it didn't happen. I don't think it's a dead end," said Zelenskyy.
Moreover, according to him, there is currently a consideration of the possibility of changing the Ukrainian strategy in the war with Russia.
"Our military are coming up with different plans, different operations in order to move forward faster and to strike Russian Federation unexpectedly," he said.
How to accelerate the counteroffensive of the Ukrainian Armed Forces
The Ukrainian President discussed what the Armed Forces of Ukraine lack today to accelerate the counteroffensive on the front lines. According to him, the most critical element is control of the skies.
"We don't have enough air defense systems, so Russia controls the sky. What will happen when we have enough air defense systems from our partners? Our troops will move forward. No, they will run forward, and this (counteroffensive - ed.) will happen faster," he said.
Zelenskyy added that assistance in balancing forces in the sky is the top request to partners.
A call to the U.S. Congress
Zelenskyy called on the U.S. Congress to maintain military assistance to Ukraine. He explained to American lawmakers who are blocking additional funding that the alternative could be the risk of a Russian attack on NATO.
"If Russia will kill all of us, they will attack NATO countries, and you will send your sons and daughters and it will be - I'm sorry, but the price will be higher," the president said.
How West can help Ukraine
Zelenskyy was asked if he believes the U.S. should fund Ukraine until the end of the war. In response, the Ukrainian president mentioned other ways to support Ukraine.
"First, with additional air defense systems, we will have some more million people, that's a lot. They will work, children will go to school and they will pay taxes, our GDP will increase," he said.
Additionally, according to the president, Western countries and the EU could transfer funds to Ukraine from Russian assets. The U.S. could also provide Ukraine with a loan that would be repaid after the end of the war.
Furthermore, Zelenskyy proposed that the U.S. produce weapons together with Ukraine and allow Ukraine to purchase ammunition from American companies.
24 minutes for Trump
Zelenskyy responded to former U.S. President Donald Trump's statement about ending the war in Ukraine within 24 hours if he were back in the White House.
"If he can come here, and I will need 24 minutes, yes, 24 minutes, not more, 24 minutes to explain President Trump that he can't manage this war, he can't bring peace because of Putin, if he is not trying and if he's not ready to give our territory for this terrible man, for the Putin," the president said.
Putin - the f...ing terrorist
President of Ukraine called the Russian dictator Vladimir Putin a f...ing terrorist.
"The war takes the best of us. The best heroes – the best men, women, and children. That's it. But we are not ready to give our freedom to this f....ing terrorist Putin. That's it. That's why we are fighting," Zelenskyy said.
War in Israel
Zelenskyy also commented on rumors that he supposedly plans to visit Israel, which is currently conducting a large-scale military operation against Hamas in the Gaza Strip.
"It's difficult to say because I'm a president of a country at war and you know that at our battlefields it's very hot, therefore my visit there depends on a number of things, first, what's happening on the battlefield...And second, it depends on whether we will be able to get our citizens of Ukraine what are stranded there (from Gaza)," he said.
The president added that if his visit to Egypt or Israel helps in the release of Ukrainians, he is ready to do it.