New UK Ambassador starts working in Ukraine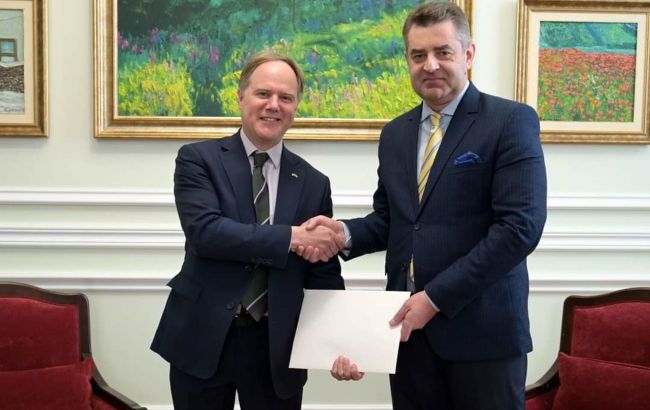 New UK Ambassador starts working in Ukraine (mfa.gov.ua)
The new UK Ambassador, Martin Harris, has started his work in Ukraine and presented copies of his credentials at the Ministry of Foreign Affairs of Ukraine, according to the ministry.
"On September 11, Deputy Foreign Minister of Ukraine Yevhen Perebyinis received copies of the credentials of the newly appointed His Britannic Majesty's Ambassador to Ukraine Martin Harris," the statement says.
The speakers discussed the entire range of issues of cooperation between Ukraine and the United Kingdom, exchanged views on specific steps to deepen cooperation in the context of Ukraine's path towards NATO membership, as well as the implementation of international initiatives in support of Ukraine.
The sides paid special attention to increasing sanction pressure on Russia and the functioning of the Black Sea grain deal to ensure global food security.
The Deputy Foreign Minister thanked the government and the people of Great Britain for their strong support of Ukraine and for strengthening the defense capabilities of Ukraine in the context of countering Russian aggression.
About Martin Harris
Harris was appointed as the UK Ambassador to Ukraine, replacing Melinda Simmons, who completed her four-year diplomatic mission in Ukraine on September 1.
Martin Harris has been working in the UK Foreign, Commonwealth and Development Office since 1991. He worked in Ukraine from 2003 to 2008 as the Deputy Head of the British Mission and as Consul General.
In April 2014, Harris took the position of Minister and Deputy Head of the British Mission in Moscow.