New IRIS-T for Ukraine: What the SLS 'light type' is capable of, differences from the previous one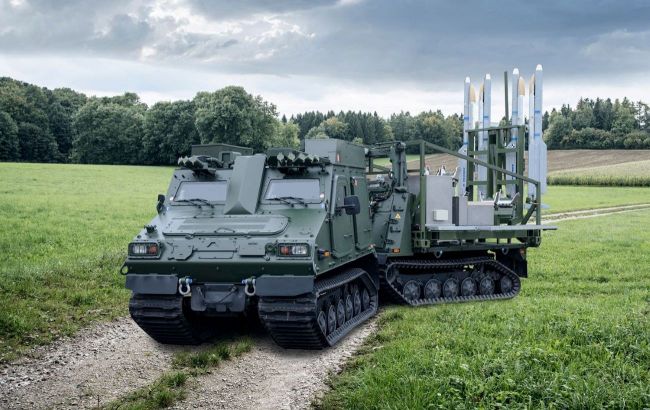 Photo: Ukraine received 2 IRIS-T SLS launchers (Diehl Defence)
The German government has announced the transfer of IRIS-T SLS surface-to-air missile systems to Ukraine, for the first time this particular modification is being transferred. Read more details about these systems and the differences from the type already in use by Ukraine's air defense forces in the RBC-Ukraine article.
How many IRIS-T SLS did Ukraine receive?
According to updated information from the German government, 2 IRIS-T SLS launch units have been provided as military assistance to Ukraine. Prior to this, Ukraine had received two SLM complexes.
Previous reports about IRIS-T primarily concerned the SLM variant. In addition to IRIS-T SLS, Ukraine has also received other military assistance from German partners, including:
Patriot air defense systems + 2 launch units
46 Gepard self-propelled anti-aircraft guns
500 Stinger portable air defense systems
2,700 Strela portable air defense systems.
Germany also plans to provide Ukraine with 6 more IRIS-T SLM air defense systems and 22 IRIS-T SLS launch units, along with ammunition for these systems and others.
Earlier, the SLS variant had only been in service with Sweden, a total of 8 units locally designated RBS 98, according to The Military Balance.
President Volodymyr Zelenskyy confirmed that both launch units are already in Ukraine.
"Basic" IRIS-T SLM
This is the latest air defense system, with development completed in 2014. Ukraine is where IRIS-T is truly seeing combat deployment.
Photo: IRIS-T SLM system in service with Ukraine (facebook.com/GeneralStaff.ua)
As of May 2023, the first division of IRIS-T SLM had reportedly successfully downed at least 60 aerial targets. The system can also intercept 9 out of 10 missiles and effectively demonstrate its combat capabilities.
Key characteristics of IRIS-T SLM with medium-range detecting capabilities include:
range: 40 km
missile launch altitude: up to 20 km
8 missiles per launch unit
vertical missile launch
360-degree radar coverage.
The radar station can integrate almost any multifunctional radar for target detection and tracking. The systems supplied to Ukraine use German TRML-4D (Hensoldt) radars, which can detect targets up to 250 km away.
According to the manufacturer, TRML-4D can track over 1,500 targets in a real-time regime. Airborne targets, like aircraft, can be detected at a range of 250 km, and at a distance of 120 km, the system guides missiles.
The command center accommodates 2 operators and can exchange data with higher-level command systems in a real-time regime. Communication with other elements of the system is carried out both by radio and by fiber optic cable.
The launch unit is mounted on an 8x8 MAN SX45 truck chassis and holds 8 missiles, allowing for 360-degree target engagement. It takes about 10 minutes to deploy and around 15 minutes to reload. Simultaneous shelling of several targets is achieved by the rapid launch of several missiles.
Photo: IRIS-T SLM system in service with Ukraine (facebook.com/GeneralStaff.ua)
The launcher is equipped with all necessary subsystems - an electric generator, fire control system, radio station, etc. It can be 20 kilometers from the control center.
The SLM complex uses IRIS-T anti-aircraft guided missiles. In this version (for the medium range) a more powerful rocket engine is installed to increase the effective zone of damage up to 25 km in height and up to 40 km in distance.
A rocket engine is solid-fuel, with a controlled thrust vector. The flight control module is in the tail section, and the missile features four wings with independent actuators.
The missile employs an infrared seeker for final guidance within 20 km of the target. It's well-protected against passive and active countermeasures.
IRIS-T SLS: Features and differences from SLM
The most significant difference is that IRIS-T SLS is designed for short-range detection. It uses standard IRIS-T guided missiles that can intercept targets up to 25 km away, unlike the SLM version's 40 km range. Other sources mention a range of 12 km at an altitude of up to 8 km.
However, IRIS-T SLS is also intended to counter aircraft, helicopters, drones, and cruise missiles. It combines satellite navigation, inertial guidance, radar guidance, and infrared homing for target engagement.
The specific chassis and radar systems used by Ukraine for IRIS-T SLS are currently unknown. The system was initially presented on the General Dynamics Eagle V 6x6 chassis, but the manufacturer also mentioned the possibility of using other platforms.
Photo: IRIS-T SLS on a tracked platform compared to IRIS-T SLS (Diehl Defence)
As for radar, options included Saab Giraffe 1X or Hensoldt Spexer.
As Defense Express reports, the unique feature of IRIS-T SLS is that it's mounted on the BvS 10 articulated amphibious tracked vehicle produced by BAE Systems. Each such complex carries 4 launch units.
According to Defense Express, the SLS variant has a more limited engagement range, up to 10 km, and an altitude of up to 6 km. The Giraffe radar mounted on the front of the vehicle can detect targets up to 25 km away and up to 10 km in altitude.
The main differences between SLS and SLM versions are the engagement range and targeting principles. Both versions have the advantage of vertical launch, which eliminates dead zones above the air defense systems.