Apple completely updates AirPods and releases 4th generation headphones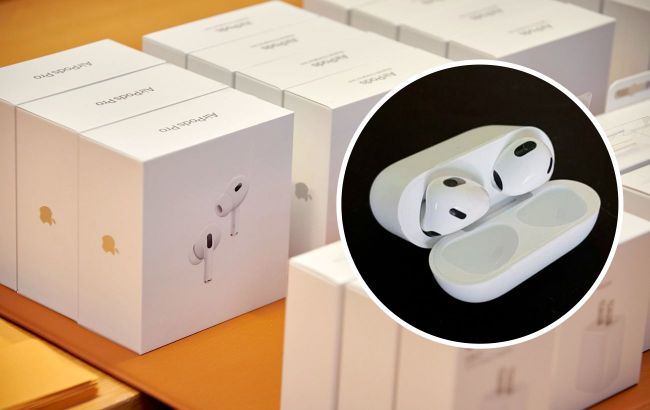 RBC-Ukraine collage
Apple is set to update its entire line of AirPods and release the 4th generation of wireless headphoned. These new AirPods are promised to feature improved sound quality, USB-C connectivity, and a completely fresh design, according to Bloomberg.
The upcoming AirPods 4 models are expected to showcase an entirely new design that combines elements of the AirPods 3 and AirPods Pro, but they won't offer customizable ear tips like the Pro version. The main change will be the shift to a USB-C port for charging, replacing the Lightning port.
3rd generation AirPods (photo: Apple)
There will be two variants of the AirPods 4, differing in functionality, including the presence or absence of noise-canceling technology and integration with Find My. The more expensive version will come equipped with noise cancellation and an updated case with built-in speakers for easier tracking via Find My, similar to the current AirPods Pro, which should significantly simplify locating a lost case.
Recent reports indicate that AirPods Max will undergo a makeover around the end of the next year, which will include transitioning to a USB-C port and expanding the range of color options. However, aside from these changes, AirPods Max won't receive any other updates.
Apple AirPods Max (photo: Apple)
Regarding AirPods Pro, Bloomberg suggests a full redesign and updates are expected in 2025, potentially featuring a new chip and hearing health-related features.
Apple first introduced its wireless AirPods in 2016 when it began phasing out the traditional audio jack from its devices. Initially met with skepticism, these earbuds quickly won over consumers.
Over time, AirPods have become one of the most popular consumer tech products, especially as holiday gifts. They have also become a sought-after accessory for iPhone users.
According to Canalys data for 2022, AirPods lead the wireless earbuds market with a share of approximately 32% of total sales.
The product has been a top seller since its release in 2016 (photo: Bloomberg)