New Czech ambassador commences duties in Ukraine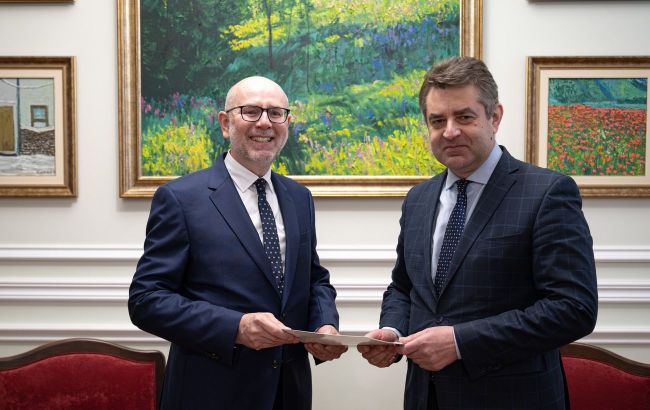 Photo: Ambassador of Czechia to Ukraine Radek Pech and Deputy Minister of Foreign Affairs of Ukraine Yevhen Perebyinis (mfa.gov.ua)
The newly appointed Ambassador of Czechia to Ukraine, Radek Pech, has arrived in Kyiv and presented copies of his credentials at the Ministry of Foreign Affairs, announces the press service of the Ukrainian Ministry of Foreign Affairs.
According to the ministry, the copies of the credentials were received by Deputy Minister of Foreign Affairs Yevhen Perebyinis.
The Ukrainian official highly appreciated the intensification of the political and sectoral dialogue between Ukraine and Czechia, especially in the context of countering the armed aggression of Russia. Perebyinis also expressed gratitude to Czechia for supporting the sovereignty and territorial integrity of Ukraine.
During the meeting, diplomats paid special attention to European and Euro-Atlantic integration of Ukraine. It is worth noting that the presentation of credentials essentially marks the beginning of the ambassador's official duties.
Assistance to Ukraine from Czechia
Czechia is one of Ukraine's allies following the start of Russia's full-scale invasion. Prague has provided Ukrainian soldiers with military equipment, including tanks, combat armored vehicles, and howitzers.
Recently, the Ministry of Defense of Czechia announced the transfer of licenses to Ukraine for the production of CZ BREN 2 assault rifles.