NATO's consensus on Ukraine's accession - crucial to build now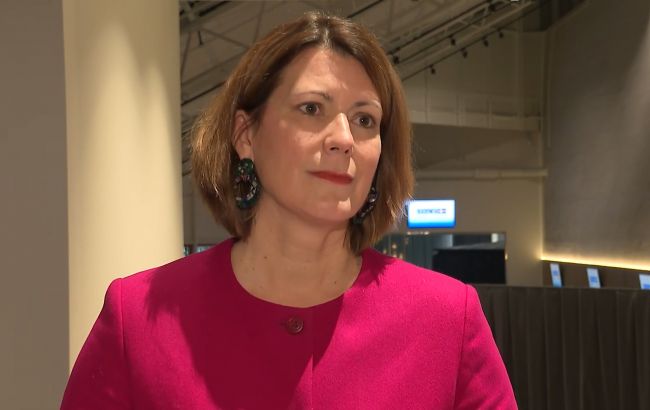 U.S. State Department spokesperson Andrea Callan (Photo: screenshot from video)
NATO decisions are made based on consensus among all member countries, so it is crucial to achieve unity regarding Ukraine's accession to the Alliance, said the official representative of the US State Department, Andrea Kalan, in an interview with RBC-Ukraine.
According to her, on the one hand, the summit in Vilnius is a victory for Ukraine and the Alliance, demonstrating that NATO is strong. Although our country did not get everything it wanted, the NATO-Ukraine Council has started working. There were also many statements of support for Ukraine at the summit.
The final communiqué includes formulations stating that the Alliance supports Ukraine in the long term. Therefore, Kalan considers it a "victory" rather than a "betrayal," as the relations between Ukraine and NATO have become more robust.
The representative of the US State Department acknowledged that Ukrainian President Volodymyr Zelenskyy probably did not get everything he wanted. Instead, he had the opportunity to tell other leaders what he wanted for his country and explain the importance of supporting Ukraine and its NATO membership. She believes it is essential for all countries to hear this.
She called for remembering that the Alliance works based on consensus, and consensus takes time to build.
"We need to start building consensus now so that when Ukraine receives an invitation, the consensus is already formed. And that's important," Kalan added.
Ukraine's accession to NATO
Ukraine did not receive clear conditions and a timeline for accession at the NATO summit in Vilnius. However, a joint communiqué on Ukraine was agreed upon, outlining the vision for Ukraine's path to NATO membership.
In particular, it was reported that Ukraine will receive an invitation once the bloc countries agree to it and the country fulfills certain conditions. Additionally, the Membership Action Plan (MAP) was canceled for Ukraine.
Moreover, G7 countries adopted a joint declaration on security guarantees for Ukraine. They provide long-term support in the areas of security and economy for our country.