More than 70 buildings damaged in Kharkiv due to rocket attack - City council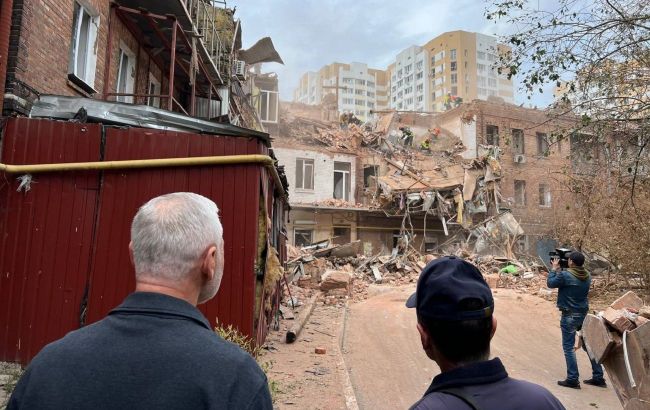 Consequences of the missile attack on Kharkiv on October 6 (Photo: t.me/citykharkivua)
In Kharkiv, due to the Russian missile strike this morning, 72 buildings were damaged in the central part of the city. Almost all of them are residential buildings, according to the Kharkiv City Council's Telegram channel.
Local authorities clarified that 69 residential buildings were damaged. According to preliminary estimates, 681 windows in apartments and 107 in common areas were destroyed, along with four roofs.
Municipal services workers are conducting inspections of buildings and have already examined 12 objects.
In Kharkiv, roads, sidewalks, and courtyards are expected to be cleared of the consequences of the strikes shortly.
Rocket strike on Kharkiv
Early this morning, on October 6, Russian military forces launched a missile strike on the center of Kharkiv. According to preliminary data, the occupiers used two ballistic missiles of the "Iskander-M" type for the attack.
The occupiers targeted residential buildings in the Kyivskyi and Osnovianskyi districts of the city.
According to the latest information on casualties and injuries, the number of fatalities is two people (including a child), and 30 citizens were injured (including an 11-month-old boy).
The Prosecutor's Office has initiated a pre-trial investigation into the facts of violations of laws and customs of war (Article 438 of the Criminal Code of Ukraine).
All the details of the Russian missile attack on Kharkiv on October 6 -in the material by RBC-Ukraine.