MoD reveals territories near Bakhmut liberated during the counteroffensive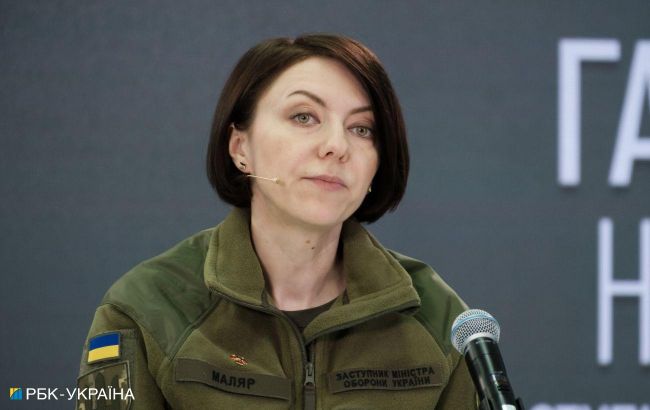 Photo: Hanna Maliar, Deputy Minister of Defense of Ukraine (Vitalii Nosach/RBC-Ukraine)
Ukrainian military liberated approximately 47 square kilometers in the Bakhmut direction during the counteroffensive, reports Deputy Minister of Defense Hanna Maliar during a telethon.
According to Maliar, there have been some changes in the local dynamics in the east, but it still remains the main direction of the enemy's offensive. Occupiers are constantly trying to advance in the Lyman, Kupiansk, Maryinka, and Avdiivka directions.
The Deputy Minister noted that the Bakhmut direction is indeed intense. Battles are taking place around Bakhmut, both in the south and in the north. In the northern flank, in the areas of Klishchiivka, Kurdyumivka, and Ozeryanivka, it was very intense throughout the past week. Russians unsuccessfully attempted to regain lost ground.
She added that the Bakhmut direction is a Ukrainian offensive direction in the east. Since the beginning of this offensive, 47 square kilometers have been liberated. During the past week, 3 square kilometers were de-occupied in the areas of Klishchiivka, Kurdyumivka, and Ozeryanivka.
Maliar recalled that just two weeks ago, the epicenter of the battles in the east was the Kupiansk direction. The Lyman direction remains active. The number of shelling there remains high, and enemy attacks persist.
In the Kupiansk direction, several enemy attacks are repelled daily. At the same time, in the Lyman direction, occupiers are trying to actively move in the areas of Novoehorivka and Bilohorivka, but the Ukrainian Armed Forces are stopping them powerfully.
It's also very intense in the Avdiivka and Maryinka directions. Last week, the enemy tried to advance in the areas of Avdiivka, Maryinka, Krasnohorivka, and Novomykhailivka. Ukrainian military personnel are in active defense and prevent the enemy from encircling Avdiivka or capturing Maryinka.
"This is very active work, although in the news, it's just a phrase: 'There are battles going on,'" she said.
If we analyze the situation in the east overall, the intensity remains the same. Russians conduct about 8,000 shelling incidents per week and use approximately 400,000 rounds of ammunition.
Situation in the east
According to the General Staff of the Armed Forces of Ukraine, in the past day, the Russians carried out unsuccessful offensive actions in the Avdiivka area. And in the Maryinka direction, our defenders continue to contain the advance of Russian forces in the Maryinka area. Meanwhile, the invaders do not cease their shelling.