Missile attack on Kharkiv: Portuguese journalists came under fire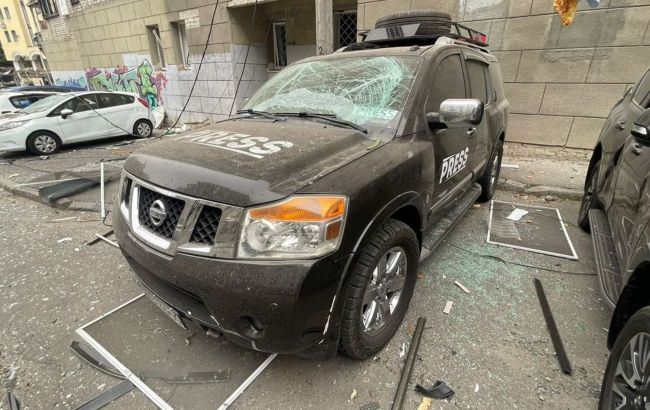 Portuguese journalists came under fire in Kharkiv (facebook.com/sergiy.tomilenko)
The filming crew of the Portuguese TV channel RTP came under missile fire in the center of Kharkiv on the morning of October 6. Journalists did not suffer any injuries, but their vehicle was destroyed, according to the head of the National Union of Journalists of Ukraine (NUJU), Serhii Tomilenko.
"The window frame collapsed and fell on me, but I'm okay. We are all unharmed, but I thought it was all over," said Andrii Kovalenko, the Ukrainian producer of the Portuguese filming crew.
RTP journalists were heading to the Donetsk region, to the front lines. They had stopped in Kharkiv on their way from Kyiv. Today, the journalists had planned to travel to the village of Hroza, where over 50 people were killed yesterday in a Russian attack.
"A missile came very close to the hotel," Kovalenko mentioned.
Photo: Portuguese journalists came under fire in Kharkiv (facebook.com/sergiy.tomilenko)
This hotel is very popular among journalists and representatives of various international organizations who travel to Kharkiv for work.
NUJU points out that the shelling of hotels and dining establishments used by journalists on assignment (hotels in Kharkiv and Zaporizhzhia, a pizzeria in Kramatorsk) by Russian missiles is a deliberate tactic by the occupiers aimed at intimidating journalists and members of the civilian sector.
"The National Union of Journalists of Ukraine expresses full solidarity with Andrii Kovalenko and our Portuguese colleagues and will inform international partners about this new war crime," Tomilenko said.
Missile attack on Kharkiv on October 6
On the morning of October 6, Russian forces carried out a missile attack on Kharkiv, hitting the city center, specifically the Kyivskyi and Osnovyanskyi districts.
Explosions in the city were heard at around 6:46 AM, and immediately after that, an air alarm was declared in the region.
Preliminary reports suggest that Russian occupiers used two ballistic Iskander-M missiles for the attacks on Kharkiv.
For all the details of the Russian rocket attack on Kharkiv this morning and footage from the scene, please refer to RBC-Ukraine's coverage.