Ukraine's Defense Minister answers whether he talked to Zelenskyy about resignation and mentioned Golgotha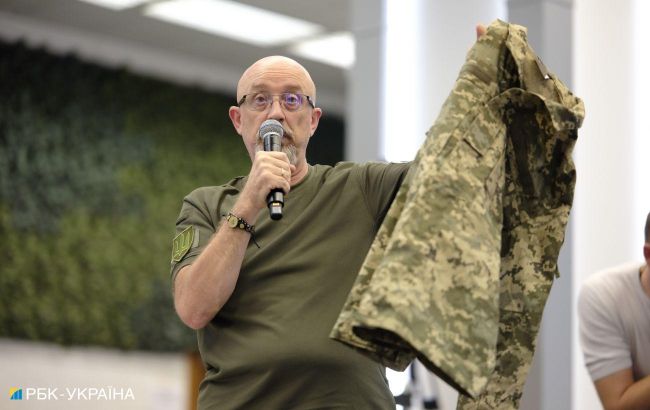 Photo: Defense Minister Oleksii Reznikov (Vitaliy Nosach, RBC-Ukraine).
Minister of Defense of Ukraine, Oleksii Reznikov, says he is not currently discussing the possibility of his resignation with President Volodymyr Zelenskyy.
The minister was asked whether he was discussing the possibility of his resignation with the president.
"95% of my communication with Zelenskyy is about the security of the Security and Defense Forces. The rest is about what to do after the victory," he replied.
Reznikov also added that the president today, in accordance with the Constitution, determines who will be the Minister of Defense and the Minister of Foreign Affairs.
"He knows for sure that I did not ask for this position. On the contrary, I dissuaded him from this appointment. He knows exactly what and how much I have done, and he knows exactly that if he assigns another important project, I will gladly accept. Because this position is Golgotha," the minister added.
When asked whether he was currently talking to the president about resigning, Reznikov shook his head in the negative.
According to Reznikov, he discussed with Zelenskyy several "projects" that he wants to take up, including in 2021, before he was appointed defense minister.
"The president has projects on the table that I could do, and they are in favor of Ukraine, increasing our defense capabilities," he said.
At the same time, he did not give a direct answer to the question of whether Zelenskyy had offered him the post of Ukraine's ambassador to the UK.
What preceded it
Rumors about Reznikov's resignation have been circulating for a long time. In particular, after a series of scandals with the Ministry of Defense purchasing food and ammunition at inflated prices.
For example, last week Reznikov offered a bet to an MP and a journalist over the scandal of the purchase of jackets for the military by the Defense Ministry. He stated that he was ready to resign if it turned out that the ministry had supplied 180,000 summer jackets instead of winter ones. Otherwise, he suggested that MP Anastasia Radina resign her mandate, and that journalist Mykhailo Tkach resign from the publication and stop practicing journalism for 3 years.
In addition, MP Oleksii Honcharenko recently said that Reznikov could be dismissed and appointed ambassador to Britain. According to him, the Defense Intelligence Chief, Kyrylo Budanov, could take over as defense minister.
Journalists also asked the President about Reznikov's resignation. Zelenskyy said that he would comment on resignations after the relevant decrees are issued.