Mini has officially presented electric Countryman and Cooper: What is known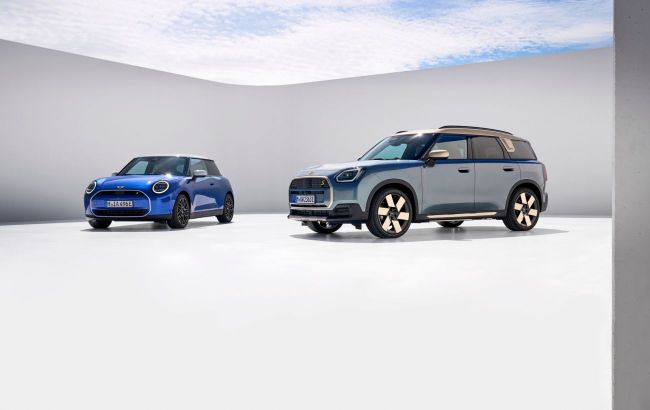 New Mini Cooper and new Mini Countryman officially unveiled on September 1 (Photo: press.bmwgroup.com)
The British automaker Mini has introduced two new electric vehicles daily – the urban hatchback Cooper and the crossover Countryman, the Mini press service reported.
Interestingly, the company has committed to completely phasing out the production of internal combustion engine vehicles by 2030. However, until this crucial date, both the hatchback and the new crossover will be available in markets with petrol and diesel engines.
New Mini Cooper
The new electric Cooper is available in two configurations. The base version of the car is equipped with an electric motor with a power of 181 hp. With this motor, the vehicle can accelerate from 0 to 100 km/h in 7.3 seconds and travel 305 km on a fully charged 40.7 kWh battery.
A more powerful version with an electric motor of 215 hp provides acceleration from 0 to 100 km/h in 6.7 seconds, and a larger 54.2 kWh battery ensures a range of up to 402 km. Mini has not yet disclosed the price for the new Cooper. European sales of this model will start in the spring of 2024, and it is also expected to be available in Ukraine.
New Mini Countryman
The third-generation crossover will also be available in two electric versions. The new Countryman has a length of 4429 mm, 13 cm longer than its predecessor. Additionally, the car is 6 cm taller and slightly wider.
The British automaker states that the new Countryman is the largest Mini model. The trunk capacity has increased by 55 liters, totaling 460 liters.
Fans of the brand will have two electric versions of the new model. The base Countryman E comes with an electric motor with 201 hp, which is sufficient for the car to accelerate from 0 to 100 km/h in 8.6 seconds. The Countryman SE ALL4 is equipped with a pair of electric motors with a combined output of 308 horsepower. Regardless of the version, the car features a traction battery with a capacity of 64.7 kWh, providing a range of up to 462 km on a single charge.