MFA supports dual citizenship in Ukraine, but with limits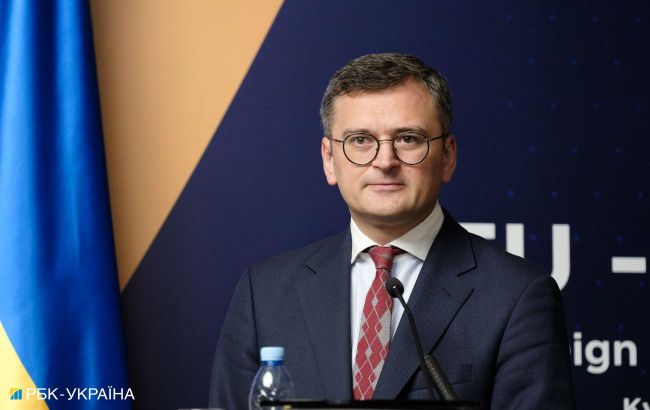 Minister of Foreign Affairs, Dmytro Kuleba (Vitalii Nosach, RBC-Ukraine)
The Ministry of Foreign Affairs considers it necessary to introduce dual citizenship in Ukraine. However, there should be exceptions like a ban on any dual citizenship with an aggressive state, as Minister of Foreign Affairs, Dmytro Kuleba, says at the Ukrainian World Congress.
"Under these conditions, it is crucial to maintain their connection to the homeland. This is about the future of Ukraine and Ukrainians. Therefore, one of the elements of the state policy aimed at preserving and developing the worldwide Ukrainian community should be dual citizenship," Kuleba stated.
The Minister notes that there has long been a difficult discussion on this topic in Ukraine.
"But I firmly believe in the need to introduce dual citizenship. We should be guided not by the fear of granting foreign passports in Ukraine, but by the strength of the Ukrainian passport in Ukraine and in the world," said the head of the MFA.
He advocated for the possibility of millions of Ukrainians abroad to keep their Ukrainian passport or obtain one.
"We should accept as a given that with Ukraine's accession to the European Union, Ukrainian passports will have the same status as the passports of neighboring European countries," Kuleba stated.
He also notes that the policy should be implemented wisely.
"Gradually, starting with allied countries. And of course, any dual citizenship with an aggressive state or unfriendly countries should be prohibited," the minister concluded.
Dual citizenship in Ukraine
Dual citizenship is the status of citizenship in which a person is recognized as a citizen of two or more countries according to the laws of those countries.
However, the Constitution of Ukraine (Article 4) defines that there is only one citizenship in Ukraine.
Before the Russian full-scale invasion of Ukraine, there were discussions at the legislative level on the regulation of dual citizenship.
In December 2021, President Volodymyr Zelenskyy submitted a bill to the Verkhovna Rada (parliament) on dual citizenship, but the document was not considered.
In the summer of 2022, the Ministry of Internal Affairs stated that the idea of dual citizenship in Ukraine had not disappeared amidst the war. They noted to have developed a set of mechanisms for regulating it.
The Ministry of Internal Affairs indicated that "the president gives priority to the implementation of this initiative, which millions of Ukrainians are waiting for."