Mercedes-Benz deliver over 100 Zetros off-road trucks to Ukrainian Armed Forces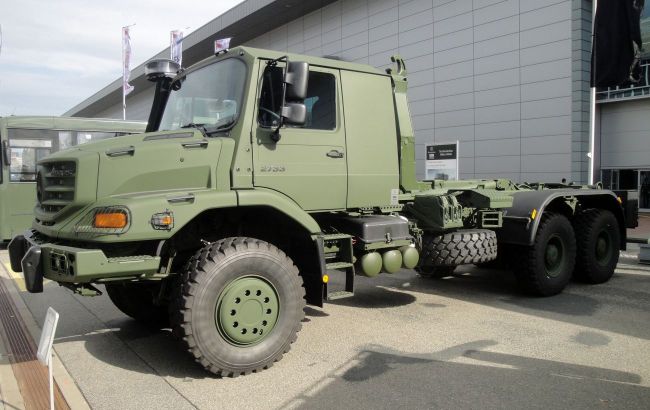 Illustrative photo (Photo: wikimedia org)
Mercedes-Benz Special Trucks has supplied over 100 off-road trucks of the Zetros model to the Ministry of Defense of Ukraine, according to a statement from the parent company, Daimler Truck.
"The delivery includes a number of vehicle types for military support and logistics tasks. The Ukrainian armed forces want to expand their operational capability for supply and defense with the robust trucks," the message reads.
It is mentioned that Mercedes-Benz Special Trucks is providing extensive service related to the vehicles to the Ministry of Defense. Prior to the delivery of the Zetros trucks, drivers underwent training courses and became proficient in operating the new vehicles with cab-over configuration.
Funding for the purchase came as part of the German government's support initiative, jointly managed and implemented by the German Ministry of Foreign Affairs and the German Ministry of Defense.
Ukraine has already been using these vehicles
Daimler Truck reported that the Ministry of Internal Affairs of Ukraine had been using Mercedes-Benz Zetros trucks from previous deliveries for a range of disaster relief operations for several months.
Humanitarian service personnel on-site use these trucks to provide assistance to the population in hard-to-reach areas, clear roads, and remove debris. Where the situation allows, the vehicles also support reconstruction efforts.
Specifications of the Zetros vehicle
The new vehicles for Ukraine predominantly have permanent all-wheel drive and are adapted for various transport tasks.
The permissible total weight of the vehicle varies from 16.5 to 40 tons. High-mobility trucks are equipped with a six-cylinder in-line diesel engine OM 460 with a power range from 265 to 350 kW (360 to 476 hp) depending on the specific vehicle.
A working volume of 12.8 liters provides a maximum torque of up to 2300 Nm. The independently opening hood provides access for maintenance and repairs in the engine compartment. This allows the cab to remain isolated as a protected space for communication technology use.
Other assistance from Germany
Recently, Germany reported the transfer of a new package of military aid to Ukraine, including Patriot anti-aircraft missile system missiles.
Furthermore, the German Minister of Finance, Christian Lindner, proposed providing Ukraine with annual assistance of 5 billion euros.