Massive fire breaks out in warehouse in Moscow suburbs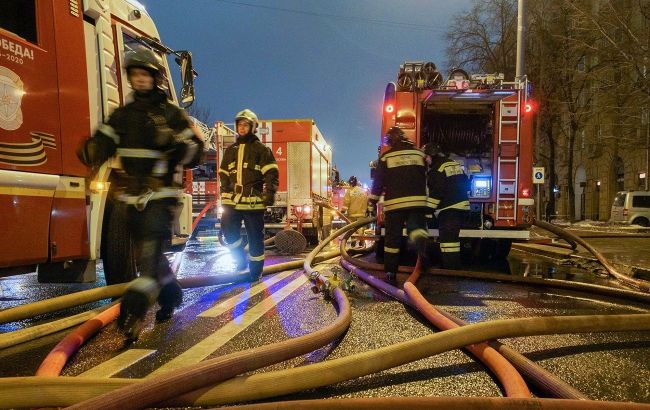 A fire in a warehouse in Odintsovo, Russia (t.me/vestivrnru)
A massive fire broke out at night in a warehouse with a total area of 2,000 square meters in the Russian city of Odintsovo, Moscow region, according to Russian Telegram channels.
According to local sources, the incident occurred at warehouses on Zelyonaya Street in Odintsovo. It was a beer products warehouse.
Firefighters and specialized equipment had immediately arrived at the scene. The Russian Emergencies Ministry states that the fire has been localized.
No casualties have been reported as a result of the fire, according to preliminary information.
Videos and photos of the blaze are circulating on social media.
Later, it was revealed that a local security guard was injured, reportedly jumping from the second floor to escape the fire. He sustained injuries and fractures and was hospitalized.
It is also reported that the fire area has expanded to 2,800 square meters.
Fires and explosions in Russia
There has been a significant increase in fires across Russia recently, both in Moscow and remote regions.
On August 9, an explosion occurred in the city of Sergiev Posad, 70 kilometers from Moscow, at the Zagorsk Optical-Mechanical Plant.
Russian media outlets mention that fireworks exploded in one of the warehouses. Dozens of injuries have been reported.
However, the Zagorsk Optical-Mechanical Plant is a major manufacturer of surveillance equipment for military and industrial purposes, including optics for the military.
Furthermore, that same day, a massive fire broke out in the Kursk region of Russia, engulfing the roof of a multi-story building.
On that very day, a military facility caught fire in the Stavropol Krai of Russia.