Kyiv's 'Motherland' monument get Soviet emblem replacement: photos from the scene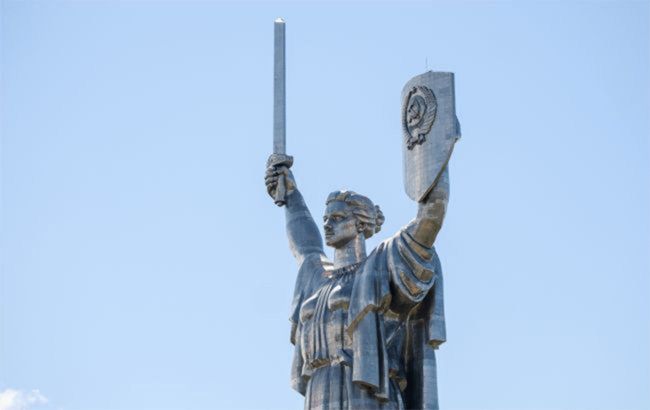 In Kyiv, work on the Motherland monument has already begun (Photo: RBC-Ukraine, Vitalii Nosach)
In Kyiv, installation works have already begun on the monument "Motherland." The Soviet emblem is being removed in parts.
What is known about the replacement of Soviet symbolism
The Ministry of Culture and Information Policy has decided to replace the Soviet emblem on the shield of the "Motherland" monument. Instead, they chose to install the Ukrainian trident.
It is made from two types of metal: 1.7mm thick stainless steel and 1.5mm thick steel of foreign production.
Former Minister of Culture, Oleksandr Tkachenko, announced that the replacement cost was successfully reduced to 28 million hryvnias, although initial estimates were 36 million.
The complexity of the work lies in the fact that installation has to be carried out at a height of 92 meters. Special equipment and favorable weather conditions - warmth and absence of wind - are necessary for this purpose.
The Ministry of Culture and Information Policy also stated that replacing Soviet symbolism with the trident will be completed by August 24, 2023.
The installation works have already started
In Kyiv, the Soviet emblem is already being removed from the "Motherland" monument's shield. Since the structure is huge and complex, it will likely be done in parts or several stages.

"Motherland" is being prepared to change Soviet symbols (photo: Taras Podolyan/gazeta.ua)
The works are being funded by sponsors rather than from the state budget.