Kate Middleton's sunny look and earrings with tragic story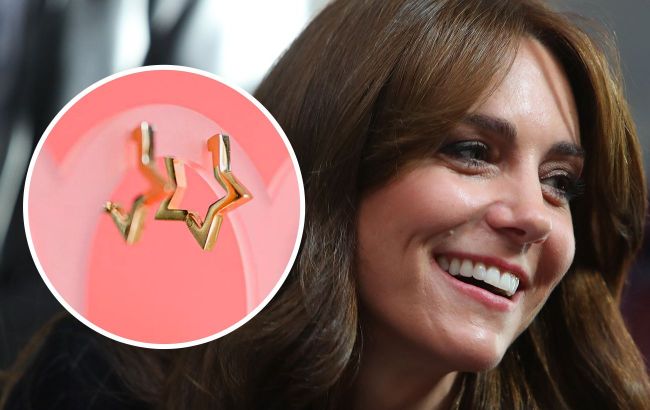 Kate Middleton impressed with a new bright look (collage: Styler)
Kate Middleton never ceases to amaze the public with her elegance and taste, as her outfits are always very sophisticated and appropriate. Yesterday, at an event in Birmingham, she once again demonstrated this.
RBC-Ukraine (Styler project) tells about what the Duchess of Cambridge wore during her visit to Birmingham and why.
Sources used in preparing the material include the Daily Mail, BBC, and the Instagram account of the Duchess of Cambridge.
Kate Middleton's outfit
On October 10, Kate, along with her husband William, appeared at a special forum called "Exploring Our Emotional World" in Birmingham. The forum provided young people in the UK with the opportunity to discuss the importance of sharing their emotions and feelings rather than keeping them to themselves.
During the event, Kate took the stage to emphasize the importance of breaking down negative stereotypes surrounding mental health. She made a strong impression with her outfit.
Middleton wore her mustard-yellow blazer from the LK Bennett brand, which she has worn on multiple occasions. She paired it with a long-sleeved black blouse, black wide-leg palazzo pants, and classic matching shoes.
Kate Middleton visited Birmingham in a bright yet tragic outfit (photo: instagram.com/princeandprincessofwales)
A lovely addition to Kate's outfit was the gold star-shaped earrings from the Ear Sass brand, which she received as a gift during a rugby match back in June. The earrings were presented to the Duchess of Wales by rugby club coach Sarah Renton.
Kate Middleton's tragic earrings (photo: instagram.com/dresslikeaduchess)
The symbolism of Kate's look
And these earrings have become highly symbolic since the daughter of Sarah took her own life after a long battle with depression. So, one could say that Middleton used her accessories to symbolize the theme of the youth event and to honor the bright memory of the young lady who tragically lost her life due to depression and unresolved psychological issues.
The symbolism isn't limited to just the earrings; the jacket, more precisely its color, also carries a special significance. It features a mustard-yellow color, which is significant because it corresponds to the logos of Beyond and Young Minds UK, two charitable organizations present at the youth mental health forum that Kate Middleton and Prince William attended.
Kate Middleton's Symbolic Jacket (photo: instagram.com/dresslikeaduchess)
Indeed, symbolism plays a crucial role in shaping the image of the Duchess of Cambridge. It draws attention and emphasizes the importance of the messages being conveyed.
Kate Middleton visited Birmingham in a vibrant yet poignant ensemble (photo: instagram.com/princeandprincessofwales)