Kate Middleton in camo rides a Jackal-2 armored vehicle and learns drone operation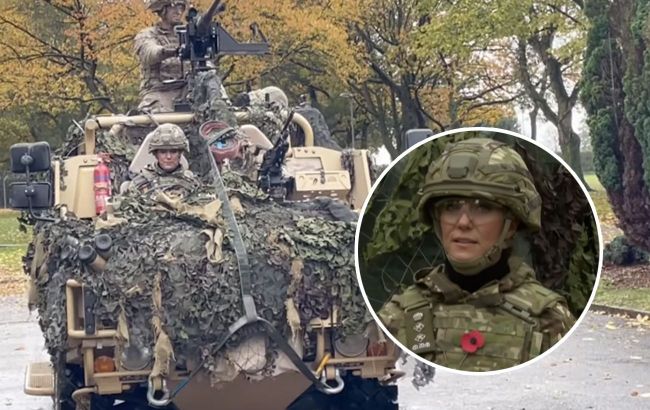 Kate Middleton wore camouflage and operated armored vehicles (collage: RBC-Ukraine)
The Welsh princess is known for her ability to surprise, as exemplified by a video that shows her skillfully operating an armored vehicle while dressed in full camouflage gear during a visit to the cavalry.
The circumstances under which the wife of Prince William was driving military vehicles in such an unusual outfit, according to the YouTube video.
Kate Middleton in camouflage controls an armored vehicle
During the summer, the princess was appointed as the Commandant-in-Chief of the Queen's Dragoon Guards, a position she visited for the first time. However, her visit had a specific purpose, as she had several tasks to fulfill during her meeting with the guards.
None of these tasks, however, could compare to Middleton's experience of operating real military vehicles. Although she was guided by a regiment commander, the Duchess of Cambridge encountered no problems in handling the vehicle. Instead, she found the experience highly satisfying and enjoyable.
In addition to riding a Jackal-2 armored vehicle, she also learned how to operate a drone, which is no easy feat as it is a military drone with specific controls. However, as a mother of three, she followed the guidance of the guards, and everything went smoothly.
Screenshots
Middleton demonstrated a high level of attentiveness and concentration during her training. She carefully listened to her instructors and asked many questions, as seen in the video footage. She made only those movements that were appropriate and safe, all under the guidance and supervision of the professionals.
"I think she enjoyed it, and all the soldiers and officers enjoyed meeting her," stated Lieutenant Colonel and regimental commander Chris Kershaw.
It's also worth mentioning that the royal bride appeared in camouflage attire for a considerable duration and even adorned it with a brooch in the shape of a red poppy. This is highly symbolic, as the red poppy is a symbol of remembrance for military personnel who lost their lives in conflicts.
However, the Duchess of Cambridge has been seen in camouflage attire on previous occasions, so such outfits are not unfamiliar to her.
Kate Middleton operating armored vehicles and drones (photo: Getty Images)