Israel under missile attack, fighting with Gaza militants in the south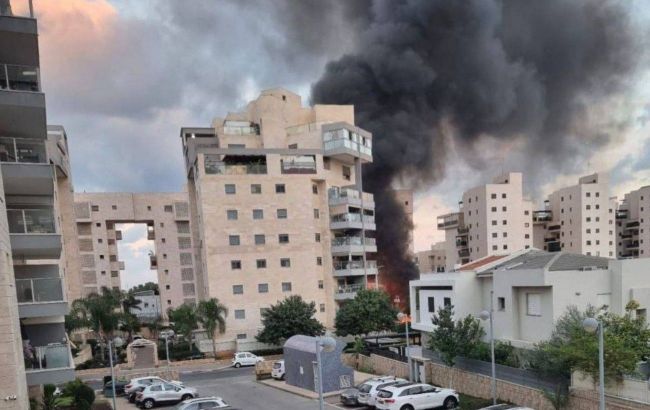 Israel under missile attack, fighting with Gaza militants in the south (twitter.com/hamdahsalhut)
Dozens of rockets were launched towards Israel from the Gaza Strip. Reports from the southern region of the country suggest clashes between the military and militants, according to Al Jazeera.
The rocket barrage began from multiple locations in Gaza at around 6:30 AM Kyiv time and lasted for approximately half an hour. Air raid sirens were heard even in Tel Aviv.
TEL AVIV: Rocket sirens sounding I'm several parts of the country.

Multiple interceptions heard over Tel Aviv. pic.twitter.com/TGZLiQyNnS

— Hamdah Salhut (@hamdahsalhut) October 7, 2023
Local Israeli agencies report severe injuries resulting from the shelling, including a 70-year-old woman injured when one of the rockets hit a building in the southern part of the country. In another location, a 20-year-old man sustained shrapnel injuries.
NOW: Multiple rockets fired from the Gaza Strip toward Southern Israel in a surprise attack. pic.twitter.com/ATZ6Gb5w7m

— Hamdah Salhut (@hamdahsalhut) October 7, 2023
Residents of Gaza also claim to have witnessed clashes along the border fence with Israel, near the city of Khan Yunis. Significant movement of armed Palestinian militants was also reported.
BREAKING: Palestinian fighters have infiltrated the border into southern Israel. pic.twitter.com/knwhXEx50b

— Hamdah Salhut (@hamdahsalhut) October 7, 2023
The office of Israel's Prime Minister Benjamin Netanyahu announced a meeting with top security officials in the coming hours.
Israeli military officials have not commented on the situation thus far, but their forces typically respond with airstrikes to rocket fire, increasing the likelihood of more significant military action.