Is U.S. exerting pressure on Ukraine regarding elections: Zelenskyy's aide responds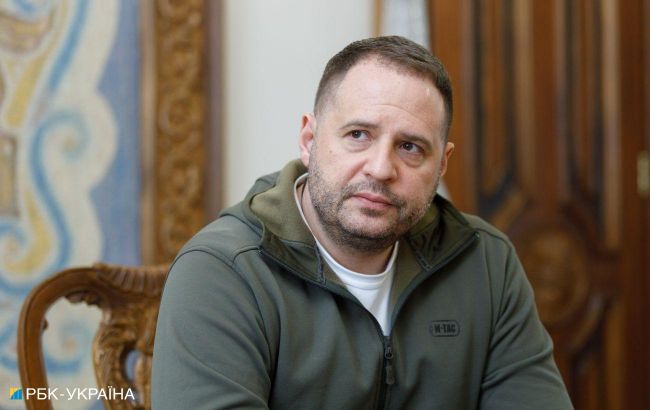 Andriy Yermak, Head of the President's Office (Photo: Vitalii Nosach, RBC-Ukraine)
The United States does not require Ukraine to hold elections during wartime, despite statements by some American politicians, according to the Head of the Office of the President, Andriy Yermak.
"No one is raising such a question. Honestly. But we know that it is an important issue for Americans; we have read statements from some congressmen. No one has asked us such questions," said the Head of the Office of the President.
Yermak also reminds of President of Ukraine Volodymyr Zelenskyy's position regarding elections in Ukraine, namely that they should be legitimate, and recognized by the world, and that the opportunity to vote should be given to soldiers on the frontlines and refugees abroad. In addition, elections should not be financed from the state budget.
"Today, there is no pressure on us from any side regarding elections. But we have seen that even in America, elections were held during wartime, so theoretically, we can consider it when there is an opportunity, and not forget about it, because it is a symbol of a democratic society," he added.
Elections in Ukraine in 2024
Parliamentary elections were supposed to take place in Ukraine on October 29, but during the state of war, such a possibility is prohibited by law. Furthermore, presidential elections are scheduled to take place in Ukraine in 2024, at the end of March.
U.S. Senator Lindsey Graham stated on August 24 that elections should take place in Ukraine in 2024, despite the imposed state of war.
President Volodymyr Zelenskyy stated that he was ready to hold elections if allies provided Ukraine with the necessary assistance. This included $5 billion and Western observers, including those in the trenches.
The German government states that holding elections in Ukraine is an important sign of democracy, but during wartime, it is not the primary issue. Berlin is not ready to pressure Kyiv to hold elections under wartime conditions.