Is Russia planning shelling Ukraine on August 24 - Ukrainian intelligence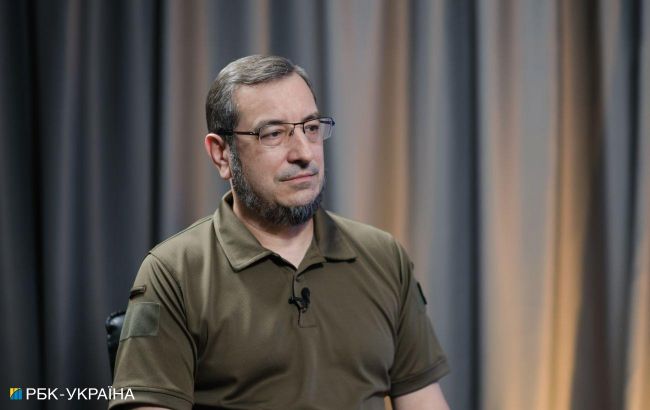 Deputy Chief of the Defense Intelligence of Ukraine Vadym Skibitskyi (Vitalii Nosach, RBC-Ukraine)
The Ukrainian intelligence is concerned that Russia might resort to shelling Ukraine on the 23rd, 24th, or 25th of August. The enemy has begun to expedite decisions for a strike, so an attack could happen at any moment, according to the Deputy Chief of the Main Intelligence Directorate of the Ministry of Defense, Vadym Skibitskyi.
"We currently have clear data on the number of equipped carriers of air, sea, and ground-based missile systems in Russia and the temporarily occupied territories. We continue to monitor this information," Skibitskyi said.
He also said that according to the information from the Main Intelligence Directorate, the enemy currently has Tu-22 bombers, the primary carriers of the Kh-22 missile, on standby. However, the intelligence representative acknowledged that the recent strike on "Shaykovtsyka" might alter Russia's plans.
"We cannot rule out that the shelling might occur on the 23rd, 25th, or 24th of August, or any other day for that matter. In any case, the enemy will do everything to keep us on constant alert," Skibitskyi noted.
As an example, he mentioned that planned MiG-31K flights, which carry Kinzhal missiles, have taken place for two days in a row, and each such takeoff also makes people worry.
"Besides, as we have observed recently, the aggressor has been making decisions for their strikes more quickly. Therefore, we should be prepared that the enemy may launch missile attacks on any target at any time," Skibitskyi concluded.
What should Ukrainians expect on Independence Day
The military and political leadership at various levels had warned of an increased threat during Independence Day celebrations.
Due to the possibility of mass shelling or other provocations by the aggressor country, no mass events will be held in the country during these festive days.
In particular, the Ukrainian Air Force has said that Russians are known for their inclination towards "sacred" dates, so attacks on Independence Day are not ruled out.
Also, today, August 23, the Commander of the Joint Forces of the Armed Forces of Ukraine, Serhiy Naiev, urged Ukrainians to be more vigilant during air raid alerts on Independence Day, as Russians might resort to an attack.
According to the latest information, Russian forces maintain ten ships in the Black Sea, including two missile carriers - one underwater and one surface vessel - with a combined salvo capacity of up to 12 Kalibr missiles.