Intense shelling strikes of Odesa on August 14: Homes damaged, 3 people injured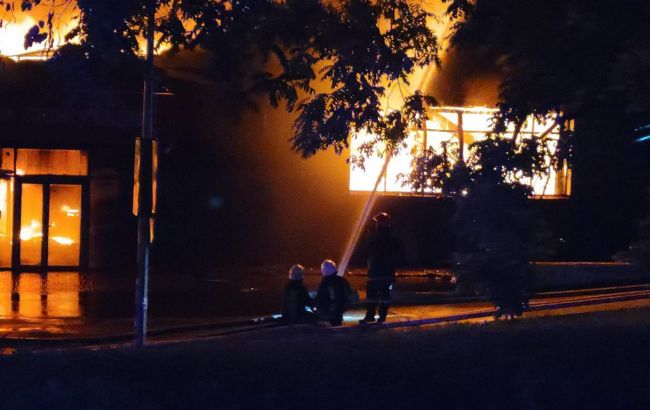 Intense shelling strikes of Odesa on August 14 (Photo: t.me/odesacityofficial)
In a fresh wave of aggression, Russian forces targeted Ukrainian cities using cruise missiles and kamikaze drones. Explosions rocked Odesa and Zaporizhhia, resulting in significant damage and casualties.
Details of the missile attack on Ukraine on the night of August 14
Reports of impending aerial attacks began to flood in from southern and central regions shortly after midnight. The Ukrainian Air Force command was alerted about the launch of kamikaze drones from multiple directions, as well as the deployment of Kalibr cruise missiles from the Black Sea waters.
Subsequent updates detailed the anti-aircraft defense efforts in the Mykolaiv and Odesa regions, alongside reports of explosion sounds.
Strike on Odesa
Russian occupying forces executed a series of strikes on Odesa, utilizing kamikaze drones and Kalibr cruise missiles. Initially, Odesa officials reported several fires ignited by missile debris impact. The explosive shockwaves shattered windows in nearby buildings.
Soon after, regional authorities announced that, according to preliminary information, three individuals were wounded during the night attack. They are receiving necessary medical assistance.
Additionally, reports confirmed damaged windows, balconies, and nearby parked vehicles due to the explosive impact. Fires erupted in two locations. Moreover, debris impact caused damage to a dormitory of an educational institution and a hypermarket.
Photos and videos of the aftermath of the nighttime strike
The Operational Command South and Odesa Military Administration released photos and videos depicting the aftermath of the nighttime city bombardment.
Ukrainian President's Office responds to the strike on Odesa
Andriy Yermak, the Head of the Ukrainian President's Office, commented on the attack in Odesa.
"Odesa. Strikes on civilian objects, on a store... No need for comments. The Russians are frenzied terrorists," he stated.
Anti-aircraft defense efforts in Odesa
According to the Operational Command South, the enemy attacked the Odesa region three times during the night, employing two waves of strike drones totaling 15 units and 8 sea-launched Kalibr missiles.
The UAVs were launched from the southeast direction (Primorsk-Akhtarsk), while the Kalibr missiles were fired from the Black Sea waters (near the vicinity of Yalta). Through the concerted effort of Air Force anti-aircraft defenses in collaboration with other defense components, all targets were neutralized. Anti-aircraft guided missiles and small arms from immediate cover units were utilized.
During the attack, the Operational Command South reported four groups of strike UAV launches: three headed towards Odesa and one towards the south.
Explosions in Zaporizhzhia, alarm in Kyiv
Russian forces also launched missile strikes on Zaporizhzhia during the night. Initial data suggests that the enemy used modified S-300 anti-aircraft missiles for the attack. Presently, information regarding the aftermath of the shelling is unavailable.
Furthermore, a nighttime air raid alarm sounded in Kyiv due to the potential threat of enemy ballistic weaponry deployment.