'In what world do you live?' Israel sharply criticizes UN Secretary-General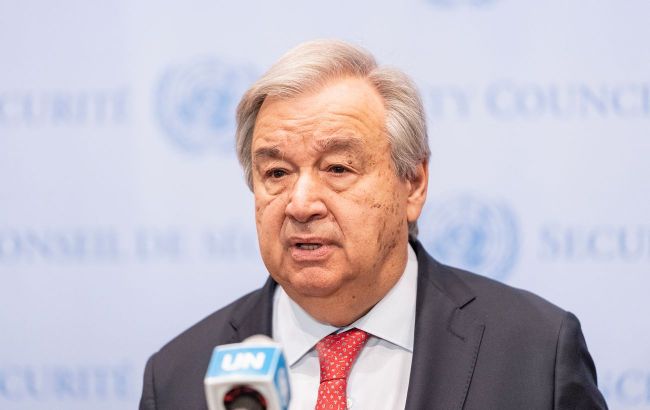 António Guterres, UN Secretary-General (Photo: Getty Images)
UN Secretary-General António Guterres stated that the terrorist attack by Hamas on Israel was a "consequence of occupation." Tel Aviv strongly criticized these remarks. RBC-Ukraine has compiled everything known about the scandal.
During the preparation of the material, information from the Times of Israel and newsru.co.il were used, as well as a statement by the Israeli Foreign Minister Eli Cohen on Twitter.
What the UN Secretary-General said
Today, a meeting of the UN Security Council on the situation in Israel is taking place in New York. During his speech at the meeting, the UN Secretary-General stated that the terrorist attack was supposedly a consequence of Israeli occupation, the construction of settlements, economic blockades, and building demolitions.
Guterres also accused Israel of violating international law during its special operation in response to the attack by Hamas militants and called for a ceasefire.
"I am deeply concerned about the clear violations of international humanitarian law that we are witnessing in Gaza. Let me be clear: No party to an armed conflict is above international humanitarian law," he said.
Israel's reaction
In response to Guterres's words, Israel's Permanent Representative to the UN, Gilad Erdan, stated that the UN Secretary-General is "completely disconnected from the reality," and his statement is an excuse for terrorism. Additionally, he called on Guterres to resign.
Israel's Foreign Minister Eli Cohen also reacted to the UN Secretary-General's statement.
"Mr. Secretary General, in what world do you live? Definitely, this is not our world," Cohen said at a special meeting of the UN Security Council.
The Israeli Minister also announced on his Twitter page that he had canceled a planned meeting with Guterres.
Hamas attack on Israel
As a reminder, on October 7, Hamas terrorists infiltrated Israeli territory. The militants killed and kidnapped both military personnel and civilians, including foreigners who found themselves in the midst of the fighting.
In response, the Israel Defense Forces launched an operation against the militants and cleared Israeli territory of them.
It is expected that troops will be deployed into the Gaza Strip as part of this operation, but the ground offensive is currently postponed. In the meantime, Israeli forces continue to launch airstrikes on Hamas positions in Gaza.