In Moscow, all airports closed for the first time due to drone attack, reports say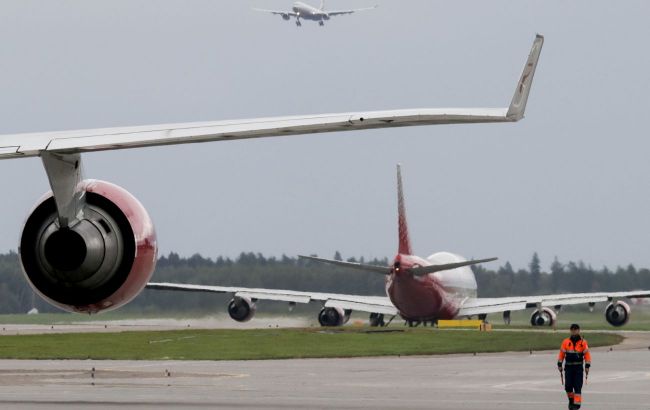 In Moscow, all airports closed for the first time due to drone attack (Photo: Getty Images)
On August 18th, due to a drone attack in Moscow, flights were restricted for the first time in all four major airports - Vnukovo, Domodedovo, Sheremetyevo, and Zhukovsky. Previously, in similar cases, a maximum of two airports were closed, reports the press service of Rosaviation (Federal Air Transport Agency).
"Today in the morning of August 18, 2023, in order to ensure the safety of flights of civilian aircraft, flights to the Moscow airports - Vnukovo, Domodedovo, and Sheremetyevo - were temporarily restricted. Also, to Zhukovsky Airport," the statement reads.
However, by 04:30 Moscow time, the restrictions on the arrival and departure of flights were lifted.
During the closure of airspace over Moscow, seven flights were redirected: three to the Strigino airfield (Nizhny Novgorod), three to Pulkovo (St. Petersburg), and one flight from Istanbul landed in Minsk.
Drone attack on Moscow on August 18th
Explosions were heard in several areas of Moscow and the Moscow region during the night of August 18th. Witnesses reported the operation of air defense systems and spotted drones.
Sounds of explosions were audible over the Moscow suburb of Odintsovo, in Troitsk, and Krasnogorsk.
In addition, an explosion was heard in the Moscow-City district around the Evolution and Federation towers. It is also reported that one of the UAVs crashed onto the Krasnopresnenskaya Embankment in the center of Moscow. There is no information about casualties.
According to the Russian Ministry of Emergency Situations, partial damage occurred in one of the pavilions of the ExpoCenter in the center of Moscow.
The Mayor of Moscow, Sergei Sobyanin, announced that the drone was supposedly destroyed by air defense forces.