'I am not afraid': Ukrainian woman demines fields in her village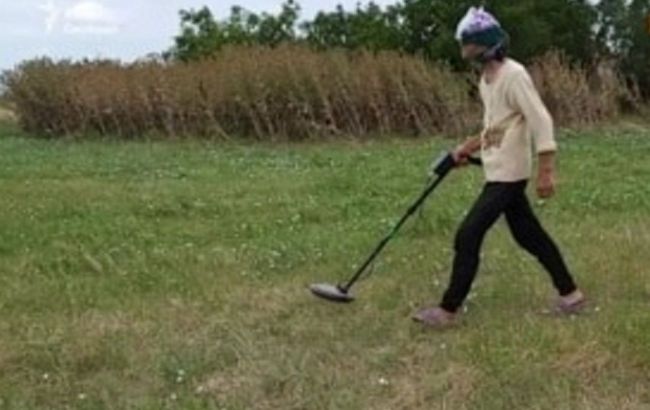 A pensioner from Mykolaiv region becomes a deminer (video screenshot)
In a remote village in the Mykolaiv region, a courageous pensioner bought a metal detector and now works in the fields every day to clear them of mines so that cows can gaze safely.
A video report about the brave Ukrainian woman was broadcast on Radio Liberty.
Meet Hanna Plishchynska, a 67-year-old resident of Stepova Dolyna, who, after last year's intense Russian shelling in her village, evacuated to Cherkasy together with her precious cow named Lana.
Spending over 10,000 hryvnias on the tickets for her cow and herself, Hanna returned to her hometown this spring. However, realizing that Lana would soon give birth, Hanna took it upon herself to clear the surrounding pastures for potential dangers, sweeping gardens and fields for any remnants of war that might threaten the safety of not only her cow but also other animals and villagers.
Armed with a metal detector, Hanna has found a drone, several unexploded shells and a pile of rubble. Whenever a woman finds a suspicious object, she informs the police to ensure the proper disposal and neutralization of potential hazards.
"I'm 67 years old, and I have to do this. There's no one else who can do it. I've cleared all the fields of mines and explosives for the sake of my cow. I used to cut hay for her. Now she can graze on her own. I'm not afraid. There are just missile fragments here, no mines or shells," Hanna said.
She said the firefighters told her not to touch anything.
"All I want is for the war to end and for our soldiers to return home alive and healthy," said the brave Ukrainian woman.