Hungarian opposition splashes paint on Orban's office over his meeting with Putin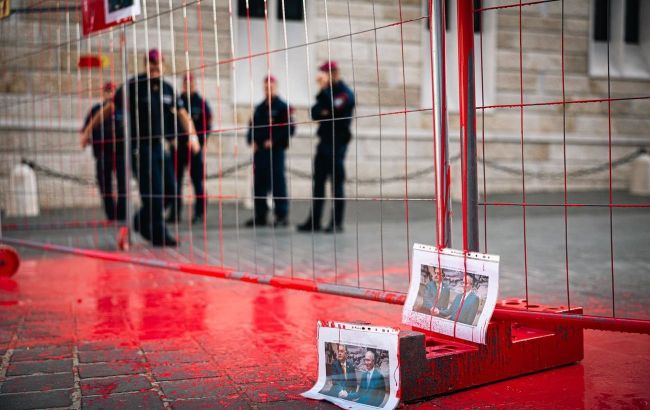 Hungarian opposition splashes paint on Orban's office over his meeting with Putin (facebook.com/momentum.mozgalom)
Members of Hungary's opposition parliamentary faction Momentum splashed blood-red paint over a fence near the office of Prime Minister Viktor Orban in Budapest, according to Momentum statement.
"We splashed it with blood-red paint because Viktor Orban once again betrayed and disrespected the memory of the heroes of 1956. He taunted them, smiling with Putin a few days before October 23. With a war criminal who wrote in Russian textbooks that '56 was a fascist revolution' and under whose command Russian soldiers are once again killing Hungarian soldiers from Transcarpathia," the statement said.
Parliamentarians emphasize that they stand for a just system where their people's struggle for freedom should not be forgotten and a system that pursues humane policies and does not leave anyone in need.
Hungarian Revolution of 1956
In 1956, Hungarians rose against the communist regime in the country but were suppressed by the military intervention of the USSR. The revolution lasted from October 23 to December 31.
In the Russian history textbook for 11th graders, participants in the Hungarian Revolution are referred to as fascists and "radical insurgents" who fought against Soviet monuments. Furthermore, the textbook's authors claim that the "catalyst for the Hungarian crisis" was the actions of Western intelligence and internal opposition supported by the West. Russia also criticizes Hungarians for "abandoning the Stalinist heritage."
Orban-Putin meeting
On October 17, Orban met with Putin during the Belt and Road Forum in Beijing. They reaffirmed their commitment to bilateral relations amid the war in Ukraine. During the meeting, Orban referred to Russia's war against Ukraine as a "military operation" and shook hands with the dictator.
The United States expressed concern about Orban's meeting with Putin. It also raised security concerns among NATO members.
Hungary is a NATO member, but it opposes many EU initiatives to support Ukraine and receives the majority of its oil and gas from Russia.