Orban meets with Putin in Beijing to confirm unwillingness to confront Moscow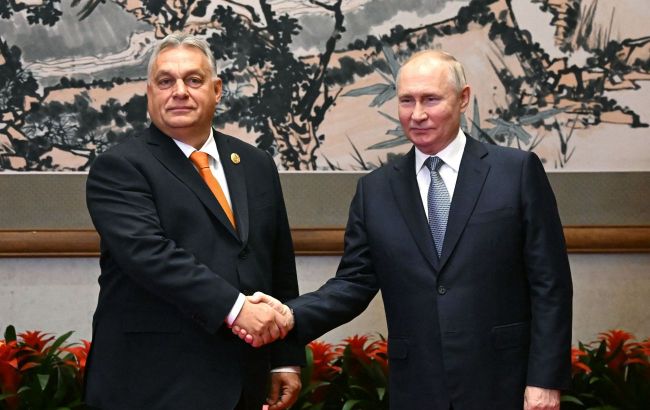 Orban meets with Putin in Beijing (Getty Images)
Russian President Vladimir Putin and his closest ally among European Union leaders, Hungarian Prime Minister Viktor Orban, reaffirmed their commitment to bilateral relations amid the ongoing war in Ukraine, Reuters reports.
"Hungary has never wanted to oppose Russia and is trying to salvage bilateral contacts," said Orban.
The Hungarian Prime Minister expressed his efforts to save what can be saved from bilateral relations and showed interest in continuing economic cooperation as long as it's possible.
Orban and Putin met at the official government guesthouse where Putin stayed before the start of an international forum on China's Belt and Road initiative.
"Despite the fact that in today's geopolitical conditions the opportunities for maintaining contacts and developing relations are very limited, nevertheless, it can only cause satisfaction that our relations with many European countries are maintained and developed. One of these countries is Hungary," Putin told Orban.
Orban's relationship with Putin
Hungary has been opposed to many EU initiatives aimed at supporting Ukraine in countering Moscow's aggression and receives a significant portion of its crude oil and natural gas supplies from Russia.
Hungary has been nurturing closer ties with Russia compared to other EU member states and is considered a key potential opponent to the EU's decision to start accession talks with Kyiv, which requires unanimous support from all 27 bloc members.
In an attempt to gain Budapest's further assistance to Ukraine, including the initiation of membership talks, Brussels is considering the possibility of unlocking billions of euros for Hungary, which had been frozen due to rule-of-law concerns.
The last face-to-face meeting between Putin and Orban took place on February 1, 2022, in Moscow, just three weeks before Russia's full-scale invasion of Ukraine.