How to enter Ukraine from Russia or Belarus: available humanitarian corridors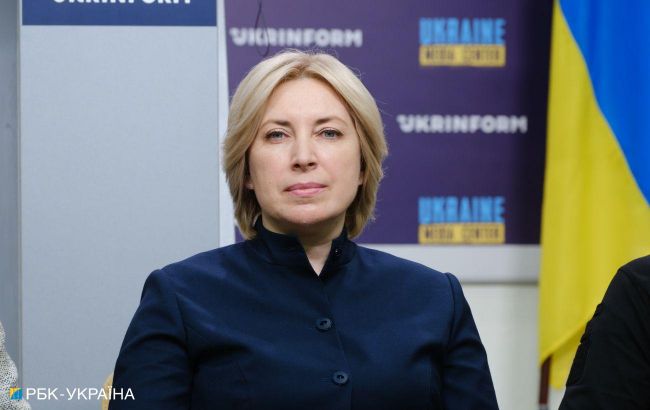 Vice Prime Minister – Minister for Reintegration of the Temporarily Occupied Territories of Ukraine, Iryna Vereshchuk (Photto: RBC-Ukraine, Vitalii Nosach)
Currently, two humanitarian corridors are operational through which Ukrainians can enter Ukraine from Russia and Belarus. These corridors are located in the Sumy region, and Volyn, Vice Prime Minister – Minister for Reintegration of the Temporarily Occupied Territories of Ukraine, Iryna Vereshchuk, revealed in the interview with "Radio Svoboda."
One of the humanitarian corridors, named Kolotilovka-Pokrovka, operates in the Sumy direction on the border with Russia. Around 150 people pass through it daily.
"But this is only for entry. Our borders with the Russian Federation for exit are closed. We are facilitating the return of our citizens, but, of course, we have no cooperation with the enemy and the occupier," explained Vereshchuk.
Another humanitarian corridor is located in Volyn on the border with Belarus, known as Domanove-Mokrany. People leaving temporarily occupied territories travel through Belarus and enter Ukraine.
The humanitarian corridor in the Sumy region was temporarily closed because the Russians obstructed it, but it has now been restored. A checkpoint has been arranged in the village closest to the border crossing, where people can temporarily stop.
"In the settlement nearest the crossing point, I'll say the conditions aren't the best, but they are acceptable. As of today, there is a point where you can go through filtration, have a meal, drink, and freshen up. And if a person is less mobile, there's, for example, emergency medical assistance that will take them to Sumy, or if not, there's a free bus or minibus that will also take them to Sumy," Vereshchuk explained.
Evacuation from the Sumy region
Those willing to evacuate from the region can also use a special evacuation train Sumy-Kyiv, which runs daily from Sumy: it departs at 6:47 AM and arrives in the capital at 11:41 AM.
Specifically, upon arrival at the station, "Ukrposhta"(Ukrainian postal operator) provides every citizen with 3,000 hryvnias for children and disabled individuals and 2,000 hryvnias for all others.