How online currency purchase will affect UAH/USD exchange rate: Expert explains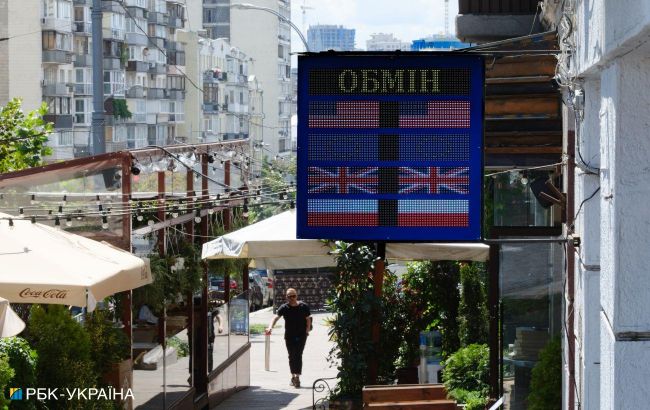 How online currency purchases will affect UAH/USD exchange rate (Vitalii Nosach, RBC-Ukraine)
The permission from the National Bank of Ukraine (NBU) for banks to sell non-cash currency to the population in the amount of UAH 50,000 per month will lead to a decrease in the dollar cash exchange rate and bring it closer to the official rate of UAH 36.6, Yurii Krokhmal, the head of the treasury products sales department at Bank Avangard, comments to RBC-Ukraine.
As the expert points out, recent easing measures that have given individuals more opportunities for online currency purchases through banks are expected to have a positive impact on the market in terms of exchange rate diversity.
"First and foremost, as the NBU itself notes, banks will be able to satisfy an even larger portion of the population's demand. Additionally, a larger volume of currency purchased in banks will increase the flow of currency into the cash segment," Krokhmal explained.
In his opinion, this will have a balancing effect on the foreign exchange market and help moderate the difference between the non-cash dollar exchange rate (which is tied to the official rate) and the cash rate.
The NBU decision
The NBU has eased restrictions on the sale of non-cash currency to the public starting from August 29.
It has allowed banks to sell non-cash currency to the public up to UAH 50,000 without additional obligations.
Furthermore, the NBU has increased the monthly limit for the purchase of non-cash currency with subsequent deposit placement for three months from UAH 100,000 to UAH 200,000. Afterward, this currency can be withdrawn in cash. These operations will be conducted at the rates set by the banks.
Banks sell dollars to the public at the interbank exchange rate, which is supported through NBU interventions. This is the official rate of UAH 36.57 per dollar plus 1%. However, banks may also charge additional fees. Therefore, it is possible to buy currency at a rate close to UAH 37.50. As a result, the exchange rate in the cash currency market may fall to this level again.
Online currency purchases in banks
Currently, you can only buy currency online at one bank, monobank, at a rate of UAH 37.44 per dollar.
PrivatBank promises to launch online currency sales after the necessary adjustments to the bank's service.
Other banks will also activate this service shortly.